Dunbar is a Penitentiary? I Don't Agree
On Dec. 12 the Lexington Herald-Leader reported on a story about students who presented to lawmakers data they had collected via a survey to our student body.
In their presentation they said the survey indicated major problems with the recent addition of metal detectors to our school.
The article begins, "Instead of feeling more secure from walk-through metal detectors and daily bag searches intended to find weapons, some Dunbar High School students report feeling violated and under siege."
Here's the thing: their survey was taken by around 30% of the student body. That's not a representative sample of the 2053 students in the building.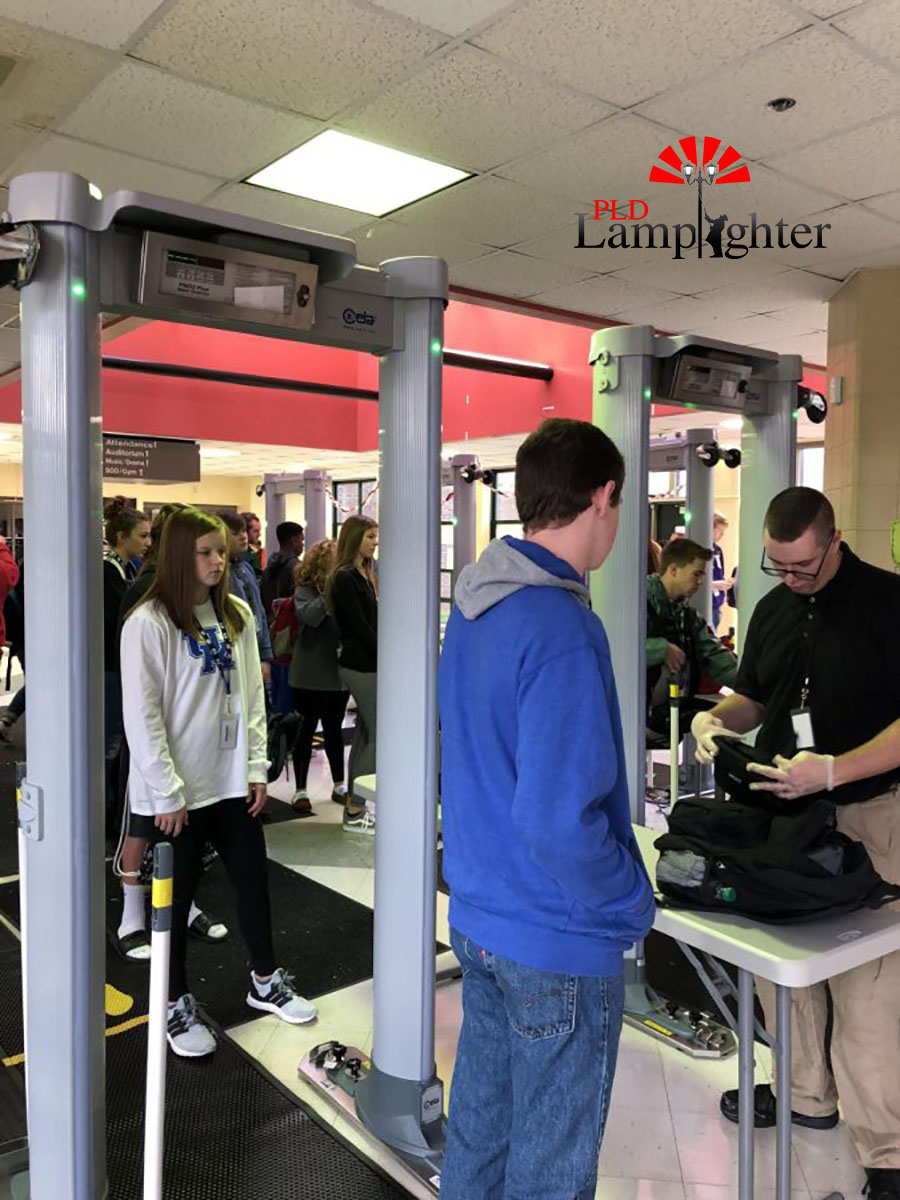 Further, of that 30 % of students who took the time to respond to the survey sent to their student email addresses, only 6.3% used words like "jail."
"Welcome to Dunbar Penitentiary" is incredibly misleading.
Although there are students who feel this way, and who say that they are inconvenienced by the changes, the students we interviewed never mentioned any words referring to incarceration.
The Dunbar students who are members of The Prichard Committee Student Voice Team shared their PowerPoint with these findings with Dunbar's Positive Behavior Interventions and Supports (PBIS) committee on Dec. 6. At that meeting, the committee discussed their presentation and gave the students more information.
Less than a week later, that information, some of which had been corrected by Principal Betsy Rains herself, was presented to lawmakers in Prestonsburg.
When the article in the Herald-Leader was published, many teachers and some students at Dunbar felt that the information they had was exaggerated.
"I mean, it's the world we live in now," senior Asher Williams said. "The metal detectors are not a big deal."
One of the claims in the report that was presented by Dunbar sophomore Gabriella Staykova stated that students feel uncomfortable going through the detectors because of bag checkers. Specifically, in the Herald-Leader article, she reported the complaint that female students are uncomfortable having their sanitary supplies taken out.
When teachers at Dunbar who are bag checkers in the mornings read this report, they were surprised.
Special Education teacher, Mrs. Karen Nichols, checks bags in the mornings as students walk through the metal detectors.
She said it is a positive experience for her.
"We are recognizing students, chatting with them, and joking with them," she said.
She added, "I check bags every morning, and we unzip bags and bags in bags, but we don't take out feminine projects as [the article] suggested."
Another complaint presented about the metal detectors and safety measures at Dunbar was that there wasn't enough communication; however, Principal Rains not only sent home messages, she also appeared on WPLD and made special intercom announcements both before and after the implementation.
"It's just like if you're going to King's Island, or if you're going to a concert, or a collegiate sporting event, or Keeneland, or any place where there are large amounts of people, this is the new normal," Principal Rains said in the video.
"This is just the way we have to do things now. So don't worry about it, don't panic, just listen to the announcements and try to prepare."
In another message given via the school's intercom system, she answered questions students had asked her, and she ended by saying, "Thanks for being so positive about this change."
And teachers and students can verify that communication was present during implementation.
"Ms. Rains definitely told us what to expect," senior Hannah Kelly said.
Yet another issue presented by Dunbar's Prichard Student Voice Team members was that the metal detectors affected students' mental health negatively. They asked for more mental health professionals, which is a fair point, but the counseling staff we currently have includes five counselors, a school psychologist, a social worker, and a behavior coach who are available to students.
The district's goal is to have one mental health professional per every 300 students. At Dunbar we have a ratio of one per 257, so we're exceeding the goal.
Counselors are also reporting a reduction of instances of crisis behaviors.
"As someone who has a hand in every threat assessment that gets completed at Dunbar, I can confirm that the amount of those that I have had to do since the new safety procedures have been put into place has been drastically reduced," school psychologist Mr. Patrick Ballard said.
Even on the Prichard students'  own report based on their own survey, 52% of student responders said that their mental health was not impacted positively or negatively.
According to the Herald-Leader, Dunbar junior Nasim Mohammadzadeh told lawmakers that "we students can and must be partners in finding and implementing solutions" when she presented the survey data.
The problem with this statement is that students were, and have been, involved the whole time.
Last year, a panel of 12 high school students representing schools in Fayette County was assembled to discuss safety from their viewpoint.
Dunbar graduate Madison Alexander was a student representative on the advisory board, and she said that she listened to first hand to the suggestions and ideas. As a member of the Dunbar Student Voice Team, she also fielded questions directly from her peers.
"The suggestions I was given included metal detectors as the number one choice, with clear backpacks and IDs as the most common requests," she said last year.
"It's good to see that they are implementing some of our suggestions."
She served on the District School Safety Advisory Council as well, and they met several times last year to work with stakeholders on making decisions for the district. Superintendent Caulk also held a press conference outlining all of these points of his safety plan.
In fact, members of The Prichard Committee Student Voice team were reported as joining with students from Marshall County to do a teach-in and rally on March 20 in conjunction with the National School Walkout.
A Marshall County student was quoted as saying metal detectors were needed in schools. "Why aren't we making our schools as safe as our airports?" she said.
Students also attend the PBIS committee meetings every month, and they specifically reported student concerns and questions to administration in the November meeting.
Students had a list of questions that they had collected which Mrs. Rains addressed.
In addition, PLD Lamplighter has been reporting on changes to safety procedures since they began last year. In this article by Abigail Hendren, the procedures for IDs was outlined.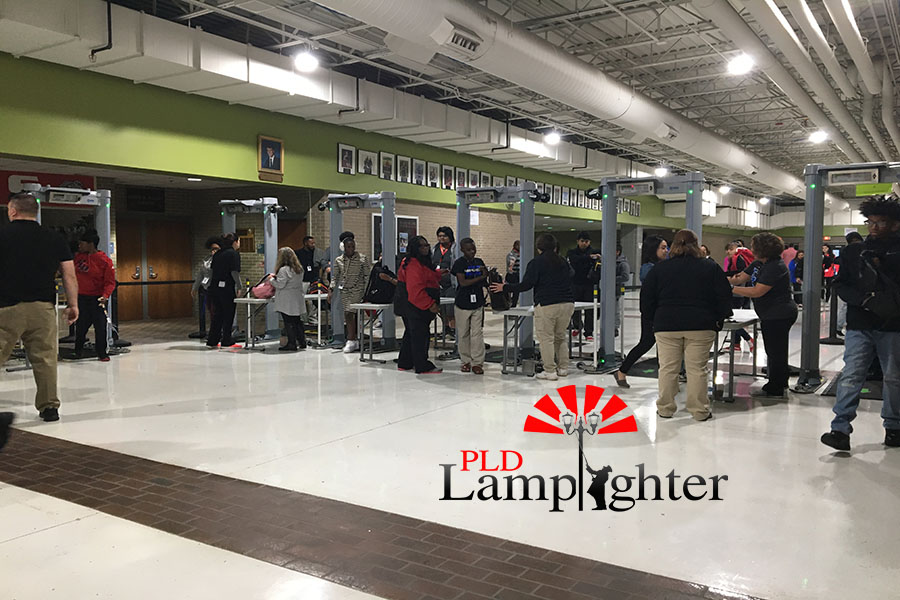 And in this article, which discussed some concerns students were having during our adjustment period, junior Nate Rich said, "I feel like we aren't checked enough because in order to check [bags] thoroughly it would take a lot of time."
In that same article, senior Kayla White said that because Dunbar just started the process, she feels like things will get better. "They're doing their best," she said. "At least they're trying."
Apparently, the other 70% of students who didn't take The Prichard Committee Student Voice Team survey at Dunbar may not have the same problems.
Finally, there is the issue of how parents feel, which wasn't addressed at all. Principal Rains also told us that only one parent has contacted her with concerns since implementation and that in fact, most parents thank her for keeping their children safe.
Science teacher Mrs. Keia Scott-Newsome said that she felt the report was not a good representation of the benefits of having the detectors installed, and the efforts of Fayette County Public Schools to do what the community asked of them in the panels they hosted last year.
"These kids need to be thankful and blessed that the 10 seconds it takes to walk through [the metal detectors] is another day they don't have to be scared sitting in a classroom," she said.
By spring break, every Fayette County Public high school will have walk-through metal detectors. There are going to be complaints, and there are going to be students who have issues with the new procedures.
Change is hard.
However, instead of going around their school to complain, maybe they can work with their schools.
About the Contributors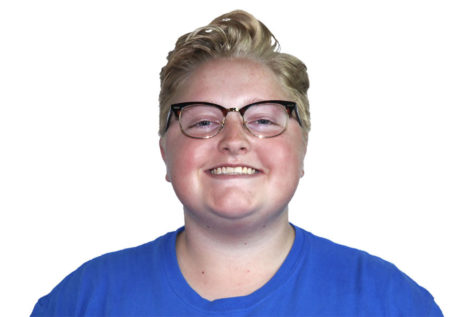 Abigail Wheatley, Editor-in-Chief
My name is Abigail Wheatley and this is my third year with PLD Lamplighter. Journalism is my love and special education is my passion. I'm fortunate enough...