Dr. Ford's testimony is still important for women
Even though Dr. Ford's testimony did not stop Brett Kavanaugh from being confirmed to sit on the Supreme Court, maybe there is still some good that can come from it.
Earlier this month, allegations of sexual assault and misconduct halted Federal Judge Brett Kavanaugh's confirmation hearing for the Supreme Court of the United States. This led to public hearings, an FBI investigation, and a quick turnaround vote in the Senate.
Despite all of that, Kavanaugh was confirmed to fill the vacancy created by retiring Justice Anthony Kennedy on Saturday.
The allegations against Kavanaugh first surfaced in a story in The New Yorker. Shortly after, The Washington Post published an interview with Dr. Christine Blasey Ford, a psychology professor at Palo Alto University who had written a letter in July to Sen. Dianne Feinstein about the alleged assault.
A week later, another allegation surfaced. The New Yorker published an article detailing a claim of sexual assault by Kavanaugh from Deborah Ramirez, his former Yale classmate.
A few days later, a third woman came forward to accuse Kavanaugh of sexual misconduct. In a sworn statement, Julie Swetnick said she witnessed him drinking and engaging in "abusive behavior" toward teenage girls at parties.
"I have a firm recollection of seeing boys lined up outside rooms at many of these parties waiting for their 'turn' with a girl inside the room. These boys included Mark Judge and Brett Kavanaugh," she said. 
Many believe those allegations should have disqualified Kavanaugh. But they didn't.
"He's going to have that seat for the rest of his life," said Swetnick. "Because from what I experienced first-hand, I don't think he belongs on the Supreme Court."
Dr. Ford appeared before the Senate committee on Sept. 27 where she delivered a raw testimony. Her voice often broke as she detailed how his assault "drastically altered my life."
Dr. Ford was asked to relive the night in front of a majority-male panel of senators. She described laughter between Kavanaugh and Mark Judge, who she said were "having fun at my expense."
After the vote to confirm Kavanaugh, many Dunbar past and current students shared their concerns, and their admiration for Dr. Ford and the other women who chose to make their private lives public.
"Despite the backlash and degradation that Dr. Blasey Ford has faced for speaking out about her sexual assault, she has remained strong in her testimony and has in turn inspired other women who were victimized by Kavanaugh to speak out," said senior Harper Sutton.
"Her choice to disclose the story of her sexual assault helps to showcase how it is never too late to bring an issue to light, and that victims of sexual assault and rape still deserve to be heard. Especially when their rapist/assaulter holds power over them."
Junior Stella Ullman said, "Dr. Ford is an important symbol for women around the world because she was brave enough to step forward in today's political climate and address a man with a lot of power. She knew she would face much of the backlash she has and felt it was important enough to come forward to educate, correct, and share in the hopes that her testimony would help add to the character analysis of Kavanaugh."
"Not only is it empowering for Dr. Ford herself," said senior Savanna Arnold, "to gain back just a bit of what he took from her in that situation, it's empowering for all women."
"There are too many times where women are taught to be nice: to consider how something could affect a man's future, or if it happened in the past we should automatically let it go. Dr. Ford's testimony was vital in teaching women that you have the opportunity to step forward and say something—no matter who it is against, nor that person's power/position," said Katy Rucker, a freshman at UK who graduated from Dunbar last year.
There are many students who still hold out hope that speaking up is the right thing to do.
"[Dr. Ford's testimony] set the example for women who feel like it's too late to speak up," said senior Daisy Garner. "No matter how silenced you may have felt back then, now that men are being punished for their actions, you should speak up."
Even though Dr. Ford's testimony did not stop Brett Kavanaugh from being confirmed to sit on the Supreme Court, maybe there is still some good that can come from it.
About the Contributors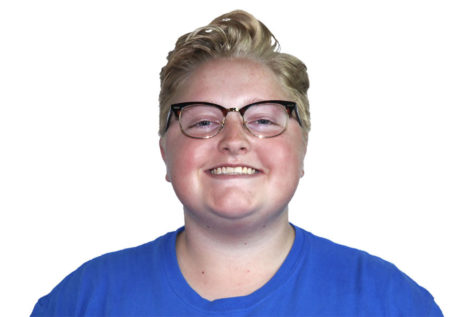 Abigail Wheatley, Editor-in-Chief
My name is Abigail Wheatley and this is my third year with PLD Lamplighter. Journalism is my love and special education is my passion. I'm fortunate enough...