We are Greater Than Fear
Dunbar students voice their fears and concerns on recent immigration issues.
Things are tense in our country, and I can feel it in our school. I understand firsthand the fears and concerns of our immigration population, particularly undocumented students. For safety reasons, I will not provide numbers or statistics, but I will provide stories, and I hope these stories show how Dunbar students are dealing with the very real issues that are affecting them and their families.
In the wake of all this fear, several Dunbar students chose not to attend school on Feb. 16, which was known as "A Day Without Immigrants." Attendance on that day was registered at 79% at Dunbar, although it's not clear how many of the 670 absences that day were due to the protest. In addition, a group of students gathered both before and after school on Feb. 17 to raise awareness about their fears and concerns. Plyler v Doe protects students from discrimination when pursuing the right to an education, but who knows for how long?
"We just want our voices heard," said senior Lori Martinez, one of the organizers of the rally held at Dunbar. Martinez also helped spread the word about A Day Without Immigrants protest.
"Our goal is to show our impact on the economy," she said.
Like many of these students, I live in fear on a daily basis. I come to school every day to get my education, but I can never stop thinking of what would life be for me if it was all taken away. I was undocumented, but now an American immigration policy called DACA, which stands for Deferred Action for Childhood Arrivals, has given me the opportunity to the work toward my American Dream. Unfortunately, my new status under DACA could be repealed under current proposals. What would I do if I ever got sent back to Mexico? Mexico isn't my home. It's where I was born, but it's not home. I was raised here, and I've been here for 11 years.
I'm not different than any other American teenager; I just have a few more struggles. For example, I have a social security number now through DACA, so I was able to recently get a job, but I give my whole paycheck to my parents to help pay our bills and buy groceries. Also, I can't get financial aid to pay for college, so college will more expensive for me.
So what is DACA? The policy was created in 2012 to assist undocumented immigrants who were brought to the United States as children, and who had been raised in the United States. It also provides a working permit that can be renewed every two years. Now that I'm "DACAmented" I can get a job, a driver's license, and I can apply for college without the fear of being deported looming over my head, yet I'm still afraid.
Less than a week ago, 23-year-old Daniel Ramirez Medina was arrested by ICE in his home. According to one report, the case raises questions about what it could mean for the 750,000 Dreamers, who had received permission to stay under DACA. Medina's lawyers said, "We're hoping that we can get courts to establish standards to protect everybody from being snatched from their homes when they've done nothing wrong."
Milton Meza, administrative assistant and clerk of the Northern Migrant Education Regional Center in the department of multiculturalism and inclusion at KCTCS, is a core member of the Kentucky Dream Coalition. He expressed that his biggest concern is the reversal of DACA under the Trump administration.
"My biggest fear is that I will be fired from my position, and another concern is how I will be able to pay for my tuition," he said. "Currently, KCTCS pays for my classes at Eastern Kentucky University, but that will end if I were to get fired."
Some students who are not yet protected under DACA are worried about their status in this country.
"If I ever do get deported, and I have to leave my daughter here, I will do anything that I can to come back and be with her," said junior Yenifer Flores.
Other students fear that one morning they'll wake up to a loud knock from ICE, and have to watch their parents or other family members be deported.
"I do not live in fear since I do have the status of citizenship, but my cousins and aunts don't have it so easy. They could lose their jobs any time…or they could be deported and I would no longer be able to see them," said junior Idalia Martinez-Flores.
I belong to groups like Latino Outreach Leaders that promote awareness and education about immigrants, and through their positive work, and with the determination of my friends and other brave students at Dunbar, we can improve understanding and create positive solutions that protect all students.
About the Contributors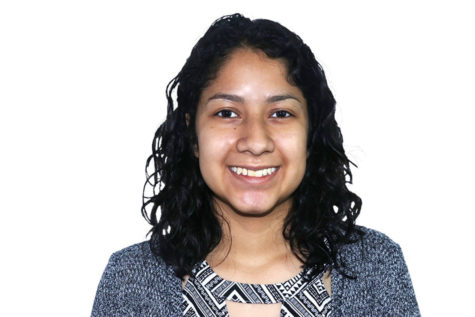 Edith Cruz, Leader of Maestro
Edith is Senior. She is a DACAmented student who advocates for the Latino/Hispanic Community. She's been on staff for three years, hopes to become a news...