Will Gun Violence in Schools Ever Stop?
National Youth Violence Prevention Week is associated with the Sandy Hook Promise, a national nonprofit organization founded and led by several family members whose loved ones were killed at Sandy Hook Elementary School on December 14, 2012. 
This past year, there were 300 shootings on school grounds, breaking the record for most school shootings. In 2023, there have already been thirteen school shootings with 74 people killed or injured on school grounds. On February 3rd of 2023, a loaded gun was found on the Dunbar campus. 

The threat of gun violence in school has increased now more than ever. 

Dunbar English teacher Ms. Amanda Holt said that things have been different since a 2018 incident in which a student was found to have a semi-automatic rifle, 500 rounds of ammunition, and a plan to harm. 

In the student's trial, it was revealed that STOP Tipline reports by other students were instrumental in this discovery.

"The kids know [about the guns] before anyone else, because everybody talks," freshman Laura Denham said. "We need to have people actually talk about it and to have people actually communicate."

But even though it has been years since the incident, the mental damage remains for some.

"For some people, they were able to let that go, for some of [the teachers], it hasn't been so easy," Ms. Holt said. "It turned it from an 'if' scenario to a 'when'."

Students are also concerned.

¨It feels more real now,¨ said junior Mwajuma Alexandre.

"

"Whenever there is a loud noise outside, I'm like, 'oh my god is this it.'"

— Mwajuma Alexandre

Dunbar has responded to threats over the years by protocol, but the multiple events have compounded some people's fears.

However, Ms. Holt said, "With every [threat] that happens, the impact [of that threat] increases, increasing tension and anxiety and all the negative stuff that comes with that."

Math teacher Mrs. Debra Reaguer said that even though Dunbar has certain measures in place such as locked doors from the outside, metal detectors, and law enforcement officers on site, she says that she still has to compartmentalize when she comes into work each day.

"Otherwise I would not be able to function," she said.

When it comes to how teachers are affected in their classrooms, Ms. Holt said that sometimes she is "not at [her] best" at building relationships with students.

She also said that she tries to compartmentalize, but "every day, even if [she] is not aware of it, [she] is in a constant heightened awareness." 

She said that causes a lot of tension and exhaustion.

"

"I am focused on how I am going to show up to this job and do what I need to do, and then walk out of here alive at the end of the day with any shred of mental health intact."

— Amanda Holt

on how I am going to show up to this job and do what I need to do," she said, "and then walk out of here alive at the end of the day with any shred of mental health intact."

After the shooting involving a six-year-old in Virginia, social studies teacher Mr. Mickey Campbell expressed his concerns as an educator in an interview with WTVQ that aired on February 3. He said that he felt like the measures in place could be inadequate if a student really wants to circumvent them.

"If you want to sneak something in…if you want to bad enough–this isn't the airport."

So the question still remains: How can schools be adequately prepared for potential threats while also supporting teacher and student mental health? 

"There are a lot of kids dealing with mental illness, and we as teachers pay attention to kids that may feel disturbed," Mrs. Reaguer said, "and report it to try and get help."

Both Mrs. Reaguer and Ms. Holt said that paying attention to signs of mental distress in students can be difficult with the current staff-to-student ratio. 

"I have a class of 36 this year," said Ms. Holt. "Even if I spent a couple of minutes with every student in that class every day, how much of a relationship will I be able to form with that short amount of time each day?"

The measures implemented at Dunbar and across FCPS have been mostly reactive solutions, but more attention is being paid to proactive solutions such as adding mental health specialists in schools.

At Dunbar, Ms. Dontryse Greer helps students talk about their mental health in a safe space. 

Parents are also involved. Roxanne McClain is a mother and grandmother. She said in the Tennessean, "How do I tell [my grandson], 'You don't have to be afraid to go to school next year?'"

With recent back-to-back shootings in Denver and Nashville, people are becoming more involved, and not just those who were personally affected by these tragic events. 

A week after the Nashville shooting, students across the country walked out of class.

There were more than 300 demonstrations across 41 states and Washington, D.C., to kick off a "week of action" by advocates and gun violence survivors, said Advocacy group Everytown for Gun Safety, which coordinated the walkouts through Students Demand Action.

***

National Youth Violence Prevention Week runs from April 24-28, and is sponsored by the non-profit Sandy Hook Promise whose mission is to provide programs and to support "sensible, bipartisan school and gun safety legislation."
About the Contributors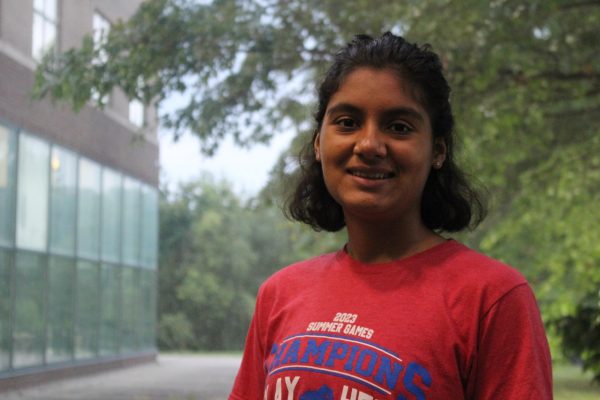 Sia Vaish, Staff Reporter
Hi, I am Sia! This is my third year on staff and I am excited to continue being on Lamplighter! Outside of school, I am a big writer, runner, and debater!...