Bomb Threat Evacuates Four High Schools
Four Lexington high schools were evacuated after receiving bomb threats via the district's STOP Tipline.
Around 12:20, an announcement went out across Dunbar for everyone to evacuate, but there was no other information.
Many were puzzled because drills don't usually happen during lunch blocks.
"I heard people in the cafeteria telling us to be quiet so that they could hear what was going through their walkie-talkies. Then the police officers told us to get out of the cafeteria and get as far away as we could from the building," senior Sania Bala said. "Everything was happening so quickly, it was scary and confusing."
Almost immediately students started sharing social media posts and hearing from their friends that it wasn't just Dunbar–Lafayette, Frederick Douglass, and Henry Clay were also evacuated due to a bomb threat.
The threat was reported through the district STOP tipline and the report demanded a $500,000 ransom payment to be made to a Bitcoin account.
At 12:43, FCPS sent an alert to families. It read "FDHS, HCHS, LHS, and PLDHS have been evacuated following bomb threats. Officers are inspecting the buildings. Updates will follow."
Because students and teachers were uncertain about the purpose of the evacuation, many left their personal items like car keys and phones inside the building.
"I was frustrated that I couldn't get my stuff because my car keys and wallet were in [the building]," said senior Claire Arbra. "I had to find a ride home with a friend and call into work. I wish they would've told us what was going on, or that it wasn't a drill so I could've been more prepared."
It was unnerving to students who said that they didn't know what was going on.
"I wasn't scared," said sophomore Julia Castillo, "but I was nervous about my friends and how I was going to get home. The lack of information made everyone uneasy."
Senior Alan Na said that this threat and evacuation, along with the past two weeks of vandalism and destruction, felt like a "fever dream" because the trauma just keeps returning. "It's like March 13 all over again," he said. "The rug keeps getting ripped out from underneath us."
On March 13, 2020, students moved from in-person learning to online learning due to COVID.
Junior Kian Rosenau worries that things are just going to keep getting worse. "In the future, there will be worse things going on in schools than just ripping sinks off walls and making bomb threats," he said.
After being told they wouldn't be able to return to the building, many students either left the school or called to be picked up.
"
"The rug keeps getting ripped out from underneath us.""
— Alan Na
Around 1:30 p.m., Superintendent Liggins made a public statement: "Out of an abundance of caution we are evacuating Frederick Douglass, Henry Clay, Lafayette, and Paul Laurence Dunbar high schools after receiving bomb threats against those facilities."
However, at Dunbar, teachers and remaining students were allowed to re-enter the building to get their items in the last 20 minutes of the school day.
Because not all students were able to eat lunch, those remaining at school were directed to the cafeteria.
"We will feed you whatever we can find to feed you" Principal Rains announced.
School Resource Officer Sgt. Ken Spera said that he felt the staff handled everything well. "We were able to clear the building and get students home safely and without incident," he said.
Principal Betsy Rains agrees.
"We prepare for evacuations and emergencies and hope we never have to actually carry out the plan," she said. "Everyone including staff and students followed our evacuation plan perfectly and did a great job clearing the building, supervising students, and keeping everyone calm."
Dr. Liggins shared this sentiment.
"There is no room for error when it comes to the health and safety of our students and staff," he said. "Our schools have emergency plans in place for situations like this and their response was phenomenal."
In a final update, Dr. Liggins shared a message that stated, "Law enforcement officials are continuing to investigate the situation and serious action will be pursued against those who made the threat."
As of 10:00 p.m. on Sept. 21, all 4 high schools have been cleared by law enforcement and declared safe for occupancy. SCAPA at Bluegrass, which is located in Lafayette, is being searched out of an abundance of caution.
According to Kentucky state law, making a bomb threat against a federal building is a felony.
*PLD Lamplighter live-tweeted during the evacuation.
Updated to include additional information on the threat and the safety status of the schools as well as statements made by Superintendent Dr. Demetrus Liggins at 12:52 p.m. on Sept. 22.
About the Contributors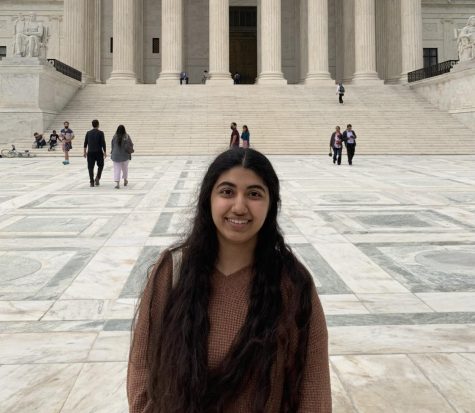 Nimi Bala, Editor-in-Chief
Hi! I'm Nimi, I'm a senior and this is my third year in Lamplighter. This year, I am one of four Editors in Chief for the program. I spent my first...