Will the Mask Mandate Stand?
Is this one step closer to normal or one step closer to going back to NTI?
Kentucky has a long history of fiercely debated topics surrounding education. In a special legislative session, House Bill 1 (HB1) was signed into law after originally falling 1 vote short. 
HB1, co-sponsored by Steven Rudy, Kim Banta, and Killian Timoney, was proposed to give individual school districts flexibility as it relates to COVID-19. 
"Using science, testing, and data, the CDC has clearly lined out recommendations that protect our students from Covid and its many incoming variants like Delta and the new Mu variant. Passing legislation that is in direct conflict with the CDC creates a grey area for our school administrators," social studies teacher Mrs. Sharessa Crovo said. 
The possibility of this bill becoming law has left students, staff, and families wondering if NTI is in the future. 
"I would be happy that we wouldn't have to wear them every day in every class. However, I would also be worried about how many more people would get sick. With more people out sick the chances of us going back to NTI and not being able to do school functions are higher," sophomore Braxten Miller said. 
Others may find this to be a light at the end of the tunnel and say it is one step closer to normal. 
"I believe that we should have the right to take our masks off in school if we want to. The protection percentage is low, and not having to wear our masks is one step closer to normal," sophomore Colton Turlington said. 
On Sept. 8, the Kentucky Board of Education called a meeting to propose a bill regarding mask mandates for public schools within the state. The amendment failed and gained friction within the House of Education Committee. Another meeting was called and HB1 passed.
The mask mandate was not the only item being considered in HB1. Other interests about "test to stay" policies, remote learning days, substitute requirements, and other issues were up for debate. 
"With this bill possibly put into place, there are definitely going to be a lot more covid cases in schools due to the fact that some students may be vaccinated while others are not, and even though you are vaccinated you can still get covid," sophomore Claire Angel said. "This would most likely lead to school shutdowns and I'm sure a lot of students would want to stay in person, including myself." 
Since Sept. 1, Fayette County has had 542 students and 76 staff members test positive for Covid-19. This has caused 2,726 students and three staff to go into quarantine. 
"Passing legislation that is in direct conflict with the CDC creates a grey area for our school administrators. If this were a regular everyday issue personal choice and local control would make sense. During a pandemic, our top priority should be protecting our children," Mrs. Crovo said. 
Update: The Fayette County Board of Education held a meeting on Sept. 15 to discuss the topic of mask mandates throughout the county. The Board voted 5-0 to keep their mask mandate.
About the Contributors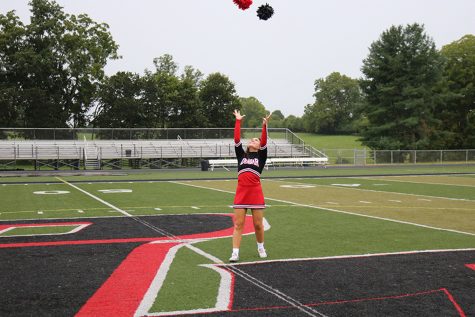 Madelyn Justice, Chief Copy Editor
Hi, my name is Madelyn Justice. I am currently a freshman, making me a first-year staff member.  I have always loved reading the news and watching broadcasts...