Kentucky Supreme Court Decision Brings a Blow to Statewide School Mask Mandate
On Aug. 21, the Kentucky Supreme Court came out with a decision that would affect the future of any Kentucky Governor's emergency executive powers in Beshear vs Acree.  House Bill 1 (HB 1), Senate Bill 1 (SB 1), and SB 2 which were passed early this year are in fact constitutional and the Franklin County circuit court must remove its temporary injunction.
The issue first made its way to court when the state legislature passed the bills.
In response, Governor Andy Beshear sued Speaker of the House David Osborne, Senate President Robert Stivers, Legislative Research Commission (LRC), and Attorney General Daniel Cameron. This resulted in the decision made by the Franklin County Circuit Court.
Franklin County circuit court had initially ruled in favor of the Governor, and as stated in the Supreme Court decision, they ruled this way because they believed that "the Governor and the public would suffer immediate and irreparable harm in the absence of injunctive relief, and the public interest and the balance of the equities require the granting of injunctive relief."
In response to the Franklin County decision, Attorney General Cameron issued an appeal stating that the Governor had no standing. The case was then transferred to the Supreme Court of Kentucky.
With the decision of the Supreme Court, the emergency executive powers of the Governor have been shortened. In SB 1 Section 2a, "executive order, administrative regulation, and other directive issued under the chapter by the Governor shall be in effect, no longer than 30 days unless an extension, modification, or termination is approved by the General Assembly before the extension of any executive order" that affects in-person learning for schools, in-person meetings, imposes mandates of any kind for masks or quarantine, or anything that restricts social gatherings, places of worship, or local government as well as local businesses.
"
Political squabbles like this are not unusual, especially if in a state like Kentucky, the Legislature and the Governor are of different political parties. "
After the 30 days expire for an executive order, the order must then be renewed by the General Assembly and they have the power to terminate an order if they see fit.
These new laws, along with the decision made by the Supreme Court, drew attention to the mask mandate that was placed on schools by the Governor at the beginning of the school year. The mandate stated that all public schools K-12 must have all students wear a mask while in in-person instruction. 
Gov. Beshear, on Aug.23, rescinded that mandate, as it would not have been renewed by the legislature and the court said he could not have the order.
Masks must still be worn in school because the Kentucky Board of Education set its own mask mandate for schools and the Governor said that the Board mandate would stand as a policy.
Political squabbles like this are not unusual, especially if in a state like Kentucky, the Legislature and the Governor are of different political parties. 
"There have long been rivalries between state legislatures and governors, just like there is between Congress and the President.  Generally, these rivalries come down to who wields more power, and both sides believe that they do. Unsurprisingly, these rivalries become more pronounced when the person occupying the Governor's office is of a different political party than the one that controls the legislature, as is currently the case in many states like KY, MI, WI, and others," AP Government and Politics teacher, Mr. Doug Wilkinson said.
"It's not common for legislatures to make these kinds of moves, but they have happened before.  The Republican-controlled KY legislature is saying that they made this move because Gov. Beshear overreached on his authority last year with the Covid-19 restrictions and that they are simply bringing his powers more in line with their interpretation of the state constitution.  Critics of these moves say that it's simply a power grab by the legislature, an attempt to take some of the governor's power for themselves.  I suspect that both theories are correct," said Mr.Wilkinson. 
"There are certainly Republicans who feel that this was a checks-and-balances issue that needed to be addressed, but attempts between branches to steal power just for the sake of it are nothing new."
The issue with the new restrictions of power is that it not only has short-term effects when it comes to issuing a mask mandate or imposing health measures, but it also has long-term effects that could affect future Governors, both Democratic and Republican.
"State Republicans have effectively limited a Democratic governor's powers, but what might happen the next time there is a Democratically controlled legislature and a Republican Governor? Could we see retaliatory measures taken to further limit gubernatorial emergency powers?  Furthermore, what happens if there is another massive Covid surge, with cases overwhelming hospitals and morgues?" Mr.Wilkinson said.
"What if there is another kind of statewide emergency on the horizon?  Will the legislature have the strength of will to issue their own emergency orders if necessary?  What if they are out of session? What if they are divided along party lines and unable to come to a decision? All these are questions that I hope the legislature considered and addressed before taking action to limit the governor's powers."
This could lead to what people call "the law of unintended consequences."
The issue now becomes, what happens when and if Gov. Beshear needs to use these powers and what happens if he chooses to challenge the decision.
"Gov. Beshear first ran into these newly imposed limits of his power when his statewide school mask mandate was challenged.  This is a policy that, a year ago, he would have had no problem instituting, but with the new restrictions in place, the State Attorney General and the State Legislature took the issue to the state supreme court claiming he had overstepped his boundaries under the new restrictions, and the Supreme Court agreed," Mr.Wilkinson said.
"If the Governor would like to revisit the issue, he would first have to present his proposal to the state legislature to get their approval.  This is similar to an old federal government proposal called the Legislative Veto that would have allowed Congress to determine whether or not Presidential Executive orders could go forward.  The Federal Supreme Court struck the Legislative Veto down as unconstitutional, but that ruling evidently does not extend to the state legislatures."
After the decision came out, the Gov, Beshear then rescinded his original mask mandate for schools but stated that the KYBOE mask mandate would stand. In Fayette County, schools are still required to have masks for all kids from K-12.
"FCPS works closely with our local public health partners, following the science and the experts to ensure our students and staff are safe with whatever tools and options are available to us locally. It was their guidance that led our district to implement a universal masking requirement even before the Governor or the Kentucky Board of Education announced their mandate.  As a district, we have a COVID Core Team in place who will continue to work in collaboration with local public health experts to focus on the health, safety, and wellbeing of our students, staff, and families and prioritizing in-person learning," Fayette County Board of Education chair Tyler Murphy said.
"Right now, a universal masking requirement is outlined in our district's health and safety guidelines and protocols. The only circumstances in which these protocols would change is if our COVID Core Team determines circumstances have changed and require a change in protocols. And, again, this would happen in collaboration with our public health partners and response to the public health realities facing our community."
Kentucky isn't the only state where this debate over mask mandates in school is happening. Many other states, such as Florida and Texas, are facing the same legal woes as Kentucky.
"As of now, in the state of KY the state Board of Ed or the local school boards/superintendents can institute mask mandates for their districts, but they wouldn't have the backing of the Gov or the legislature. In some states, like TX and FL, the governors have attempted to ban any kind of mask mandate and have threatened retaliation on school districts who defy their orders by requiring kids to wear masks.  The TX Supreme Court upheld Gov Abbot's ban, but the FL courts have not yet weighed in on Gov. DeSantis's ban," Mr. Wilkinson said.
Florida courts did eventually decide to side with parents and teachers when it comes to masking mandates and said that school boards can enforce mask mandates. The Governor of Florida plans on challenging these decisions further.
"
Our community and our Commonwealth need to work together and do everything we can to address the spread of this virus."
— Tyler Murphy
Other than mask mandates, many school boards across the country have thought about mandating the vaccine to students who are eligible to receive them as the Covid-19 cases begin to surge across the country due to the Delta variant.
"With the FDA just approving Pfizer-BioNTech COVID-19 Vaccine for the prevention of COVID-19 disease in individuals 16 years of age and older, there is more that needs to be discussed on this topic. We certainly anticipate additional guidance," Mr. Murphy said.
"And if decisions like this are made at the district level they would be guided largely by conversations with our COVID Core Team and local public health partners. In the meantime, we will continue to encourage all eligible members of our community to get vaccinated as the vaccine is proven to be safe and effective. It is a key tool in our efforts to reduce the spread of this virus, especially as we are seeing an alarming surge in the Delta variant." 
Recently, the Los Angeles school board held a vote to decide whether or not to mandate the vaccine for students 12 and up and the vote passed the school board. All Los Angeles students, who make up the second-largest school district in the country, must be vaccinated by the end of the calendar year if they are eligible.
Here in KY, the state legislature has planned on passing laws that would take away these types of decisions from county school boards and leave them in the hands of the state legislatures. This would have severe consequences as every county is handling this differently and each superintendent should be the one who decides what is best for their school district and their students.
"I hope that leaders in Frankfort will recognize the challenges our public school districts and our students, staff, and families are facing as we navigate this difficult terrain. Our community and our Commonwealth need to work together and do everything we can to address the spread of this virus," Mr. Murphy said.
About the Contributors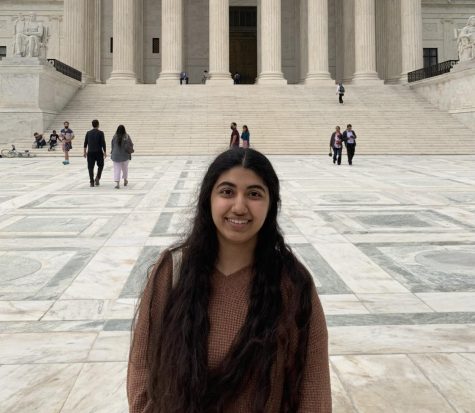 Nimi Bala, Editor-in-Chief
Hi! I'm Nimi, I'm a senior and this is my third year in Lamplighter. This year, I am one of four Editors in Chief for the program. I spent my first...