Attorney General Announces Decision Not to Prosecute Officers for Killing of Breonna Taylor
KY AG Daniel Cameron announced that there would be no criminal charges against the officers involved in the March 13 shooting that killed Breonna Taylor.
Soon after midnight on March 13, Breonna Taylor, 26, was shot and killed in her home in Louisville.
LMPD officers entered her residence, executing a no-knock warrant investigating two men believed to be selling drugs. 
The warrant was issued because police believed Ms. Taylor's home was being used to receive narcotic orders. No drugs were found in the apartment.
Her death sparked nationwide protests on racial injustice. Civil unrest increased as months went by without a decision regarding whether charges would be brought against the officers involved: Sergeant Jonathan Mattingly, Brett Hankison, and Detective Myles Cosgrove. 
The Louisville Police Department placed the officers on administrative reassignment, pending the case investigation. Brett Hankison was fired from the department in June. 
In April, the Taylor family filed a wrongful-death lawsuit against the city of Louisville. In September, a settlement for $12 million dollars, paid for by the city, was reached. At the time, no charges had been brought against the officers. 
On Sept. 23, 194 days after her death, Kentucky Attorney General Daniel Cameron announced the grand jury's decision that there would be no criminal charges against the officers involved in the killing of Breonna Taylor.

Instead, former detective Brett Hankison was charged with endangering Taylor's white neighbors when bullets entered the adjoining apartment. He was indicted with three counts of wanton endangerment and fined with a $15,000 cash bond.

Hankison was released from Shelby County jail after posting bail.
The decision was unsatisfying to many people who had hoped for more serious charges against the officers, sparking protests in Louisville and elsewhere.
To prepare for expected riots and civil unrest, the city of Louisville imposed a 72-hour curfew from the hours of 9 p.m. to 6 a.m. Additionally, Governor Andy Beshear activated the National Guard to support the anticipation of a domestic crisis.
After two law enforcement officers were shot at the protests in Lousiville, Gov. Beshear posted on Facebook a plea for people to go home.
"With the events of today, people are feeling powerful emotions…but we know that the answer to violence is never violence," he said. "Let's make sure that we find ways of expressing ourselves moving forward where your point and other people's points are made, and we can not just listen, but hear."
About the Contributors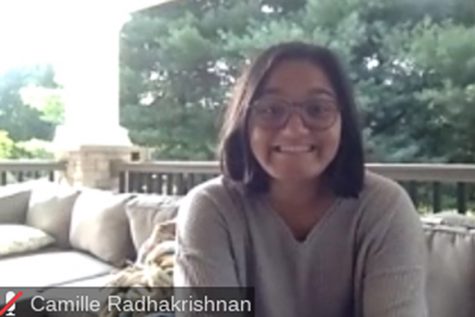 Camille Radhakrishnan, Staff Reporter
My name is Camille Radhakrishnan. This year is my third year as a Lamplighter Staff Reporter. My older sister was a member of Lamplighter and enjoyed her...