Super Tuesday Shake-up
Joe Biden swept the most delegates during Tuesday's primaries.
Super Tuesday is the most important day of any Presidential election, it can make or break a campaign. Historically speaking the candidate who wins the most delegates on Super Tuesday is able to keep their delegate lead wide enough to eventually become the nominee.
Super Tuesday is the first real test for candidates as every demographic participates, unlike Iowa and New Hampshire which are notably white.
14 states and one territory held their primaries on Tuesday; Alabama, American Samoa, Arkansas, California, Colorado, Maine, Massachusetts, Minnesota, North Carolina, Oklahoma, Tennessee, Texas, Utah, Vermont, and Virginia.
A whopping 1,357 delegates were up for grabs, a third of the overall total. 
Joe Biden, Mike Bloomberg, Tulsi Gabbard, Bernie Sanders, and Elizabeth Warren were the only ones left in the race after a long year of campaigning and debating. Sanders was perceived to be the front runner heading into Super Tuesday.
Bloomberg and Warren were seen as possible spoilers for Biden and Sanders but ultimately neither had the effect they wanted nor needed. 
Bloomberg spent 500 million dollars throughout his campaign hoping a media boost would launch him to the White House. Warren was riding a fundraising wave into Super Tuesday after a stellar debate performance.
However, it wasn't enough for either of them. Neither was able to win many delegates nor any states but Bloomberg was able to win American Samoa. Coming in third Warren lost her own state, delivering a devasting blow to her campaign.
Following their disappointing losses, Bloomberg and Warren suspended their campaigns. Bloomberg endorsing Biden while Warren remained undecided.
Early polling suggested Sanders was not only the front runner but would run away with delegates, leaving his rivals in the dirt. In an unexpected turn of events, Biden was able to sweep the south, win texas, and even win up north.
Joe Biden won a total of ten states, even some he had never stepped foot in. Massachusets, Maine, and Minnesota surprisingly went for Biden. Towards the end of the night as more and more votes came in Biden began to tighten the race in Texas between him and Sanders. In the end, Biden was able to claim victory.
In southern states like Virginia and North Carolina, Biden can attribute his large wins to the African American community, who overwhelmingly voted for him. 
Joe Biden saw a revitalization of his campaign on Saturday, Feb. 29, following a huge win in South Carolina. The race having been called for him the minute the polls closed. Leading by 28 points, Biden won his first primary of the 2020 election cycle. 
After placing fourth in Iowa, fifth in New Hampshire, and a distant second in Nevada, Biden saw South Carolina as his last opportunity to get ahead and gain some momentum. 
Just before the South Carolina primary, Rep. Jim Clyburn endorsed the former Vice President, giving him his first major endorsement and a much-needed boost.
Following Biden's blowout win and their disappointing loss in South Carolina and with African American voters, Mayor Pete Buttigieg, Sen. Amy Klobuchar, and Tom Steyer suspended their campaigns.
Buttigieg and Klobuchar endorsed Biden at a rally in Dallas Texas Monday night along with former rival Beto O'Rourke. This wave of endorsements less than 24 hours before the polls opened seemed to have given Biden the lift he needed. 
The endorsements of Bloomberg, Buttigieg, Klobuchar, and O'Rourke show that the moderate wing of the party will consolidate behind Biden even after concerns he didn't have what it takes to lead the party.
Bernie was able to win four states including the largest prize of the night, California, which allocates 415 delegates. Even so, he underperformed. Sanders was expected to win in a landslide leaving the other candidates barely viable. Biden was able to come in second. 
California delegates will continue to be allocated as many mail-in ballots have not been counted.
Sanders outspent and out staffed Biden in every Super Tuesday state. Biden's comeback is unprecedented.
Super Tuesday made two things very clear, the race for the Democratic nomination is a two-person race and the 2020 election cycle is full of surprises. 
As of now, Biden is leading at 627 delegates and Sanders is right behind at 551.
The first of the two to gather 1,991 delegates will be the Democratic nominee. Now that the race is down to two, the fears of a contested convention are thining. The next set of states will hold their primaries Tuesday, Mar. 10.
About the Contributors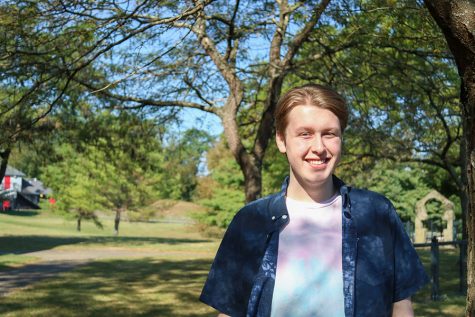 Anthony Mondelli, Chief Copy Editor
My name is Anthony Mondelli, this is my second year on the Lamplighter staff. I wouldn't want to spend my senior year any other way.

This year I'm...