Tensions Rise at the Democratic Debate
The latest Democratic debate on Jan. 14 set the tone for the Iowa caucus.
In the seventh debate, only six candidates qualified for the debate: former Vice President Joe Biden, South Bend Mayor Pete Buttigieg, Sen. Amy Klobuchar, Sen. Bernie Sanders, Tom Steyer, and Sen. Elizabeth Warren.
Notably absent from the stage was Andrew Yang and Rep. Tulsi Gabbard. Both failed to meet the DNC requirements to qualify. 
Just days before the debate Sen. Cory Booker suspended his campaign. This marks the third high profile candidate of color to suspend their campaign.
As usual, the candidates were asked about their stances on the many issues plaguing the nation. 
The first topic of the night was foreign policy and affairs. The recent conflict with Iran was the foundation of the first set of questions for the night.
When asked why they were best prepared to be commander in chief they all had varied answers. 
Sanders described his voting record in terms of military intervention. He took a firm stance on his opposition to the Iraq war and the Yemen intervention last year. He made it a point to remind voters that Joe Biden voted for the Iraq war.
When it was his turn, Biden emphasized his years in Congress, his position as former chairman of the Senate Foreign Relations Committee as well as Vice Presidency.
Buttigieg, a veteran, made the case that he experienced war first-hand and that is the only candidate who has a real sense of what the US needs to do, notably that some troops should remain in Iraq and Afghanistan to continue to hinder ISIS.
"
I think you just called me a liar on national TV."
— Elizabeth Warren
Biden and Klobachur agreed with Buttigieg, but Sanders and Warren argued "combat troops" should be pulled out.
Despite all the differing opinions, they all agreed that Trump wasn't handling foreign relations efficiently and that restraints need to be put on the President's war powers.
Next, the moderators turned the conversation towards trade as it is a huge part of Iowa's economy, and this led to a Sanders/Warren split. 
Sanders has opposed NAFTA, as well as the most recent Trump-negotiated USMCA trade agreement. He argued that the new deal offers some improvements but that it doesn't go far enough in terms of environmental protection. Warren, on the other hand, supports it. 
Then the candidates then discussed healthcare–the number one issue for voters. Healthcare is also arguably why the Democrats took back their house majority in the 2018 midterms.
During this discussion, Sanders took the most hits from his fellow Democrats. Biden specifically went after the cost of Sanders' Medicare For All plan arguing that it was important to be transparent about the cost.
Next, Warren went after Biden and Buttigieg for not going far enough in their healthcare plans.
The debate then shifted quickly towards questions about whether a woman could beat Donald Trump which spawned from a CNN report alleging Sanders told Warren a woman couldn't win.
Sanders doubled down and continued to deny ever saying it. 
"Anybody who knows me knows that it's incomprehensible that I would think that a woman could not be president to the United States," Sanders said. "Go to YouTube today. They have video of me 30 years ago talking about how a woman could become president of the United States."
Warren, on the other hand, has defended her statement that she believed a woman could win and that he disagreed. She turned the discussion to how the Democrats have overcome prejudice pointing out that John F. Kennedy won as a Catholic and Obama won as an African American: two things that seemed impossible at the time.
It seemed that the question of whether or not a woman can become president was been put to bed, but even though Bernie and Elizabeth decided not to hash it out during the debate, there was a particularly tense moment right after. Bernie extended his hand and Elizabeth rejected it, and it was clear harsh words were being exchanged.
CNN released the audio moments later.
"I think you just called me a liar on national TV," Warren can be heard saying.
"You know, let's not do it right now. If you want to have that discussion, we'll have that discussion," Sanders said.
Warren responded "Any time. You called me a liar."
"You told me — all right, let's not do it now," Sanders said.
After that exchange, it appears that the year-long truce between the two is over.
While the tension between Sanders and Warren is getting the most publicity post-debate, it seems that overall the debate was moderates vs. progressives. Not to mention, it was the most "white" debate of the cycle. Questions about issues that affect specifically people of color were absent–most likely because of the absence of voices such as Booker, Castro, Harris, and Yang–all of whom made an effort to discuss racial issues at every debate.
This was the last chance for candidates to make their case live in front of the nation before the first votes are cast in the Iowa caucus on Feb. 3. This may also be the last time the sitting senators will be on the campaign trail for a while as President Trump's impeachment trial will be starting soon. 
As of now, the most recent poll shows Joe Biden polling the highest followed by Bernie Sanders then Elizabeth Warren. However, Iowan voters are known to remain undecided weeks to just days before the primary.
The nomination process is by no means over but the Iowa caucus is typically an important step in becoming the nominee. 
About the Contributors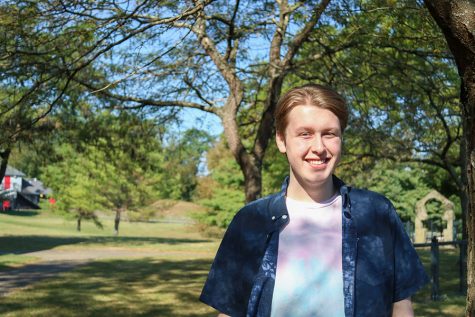 Anthony Mondelli, Chief Copy Editor
My name is Anthony Mondelli, this is my second year on the Lamplighter staff. I wouldn't want to spend my senior year any other way.

This year I'm...