Student Parking Frustrations
In past weeks there have been multiple announcements made at school regarding citations and towing for cars in the parking lot that are without a parking sticker, or are parked in unauthorized spots.
It was a quiet, calm morning at Dunbar High School until an announcement was made that the school was towing cars parked in unauthorized parking or without a parking permit. The result was a surge of students, scrambling to get their cars out of the parking lot, or to buy a permit at the last minute.
Even though cars that have multiple citations are at a risk for towing, many upperclassmen still hold qualms regarding buying a parking pass.
At Dunbar, juniors and seniors can buy a parking pass sticker for $25 each year. Students who park in the designated staff lot may be towed without warning, and Law enforcement can revoke and remove stickers from cars in violation of any driving or parking regulations.
Senior Peyton Gilinsky said, "I didn't get a parking pass until later on in the year because I leave school half day for EBCE, and it feels pointless to pay for something I wouldn't even use half of the time."
Other students don't understand the point in having restricted parking when there are spots in the parking lot. Senior Olivia Geveden said, "If the teacher lot is half empty, why are students not allowed to park there?"
According to Sergeant Blair, one of Dunbar's School Resource Officers, there are 550 parking spots in the lot, and around 300 of them go to students. The other spots are split between teachers, visitor parking, and PRIDE Buck Student of the Week winners.
"I don't like caving into the system," senior Santiago Duque said. "I'm also wondering where the money from buying a parking pass goes."
Because there are around 300 student spots that cost $25 each, the maximum revenue is from parking pass stickers is less than $10,000. This school year, 321 parking pass stickers have been purchased generating $8,025 in revenue.
The money generated from parking pass stickers used to go directly to Central Office, but as of this year, it can stay "in house." Principal Betsy Rains specified that the money is used to pay for student awards and testing materials.
According to Dunbar counselor, Mrs. Melissa Long, who has organized underclassmen and upperclassmen awards for several years, the awards are "more expensive than you think." They use the money to buy decorations, medals, faculty cup trophies, plaques, and to provide catering for community members who come to Dunbar to present awards to students that evening.
Although students have complained in the past about not having security cameras in the parking lot, the amount of money generated by parking pass stickers isn't enough for that type of purchase.
According to Mr. Blackman, security cameras in the parking lot would cost around $60,000.
"When we are renovated, we will get a new camera system. We can't afford to cover the expense [of cameras] at the school level," said Principal Rains.
Sergeant Blair and Officer Pedroche advised students pay the small fee at the beginning of the year rather than have to face high impound and towing fees later on.
About the Contributors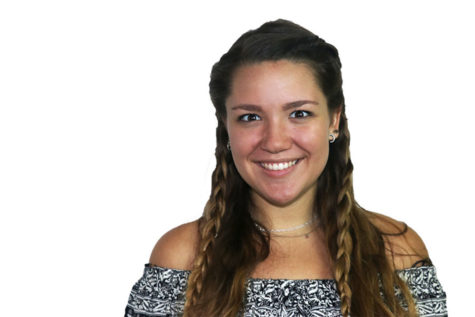 Abigail Hendren, Editor-in-Chief
Abigail is a Senior at Dunbar who serves as the WPLD Lamplighter Editor-in-Chief, Yearbook Editor, and Senior class Historian-- but she mostly just cares...