Book Challenges and Bans are on the Rise in Public Schools
Why are books continuing to be banned in public schools? During Banned Books Week, we asked Dunbar librarian Summer Perry her thoughts.
Banned or challenged books are books that have been deemed inappropriate to read by parents, library patrons, religious groups, or students. When it comes to books, a "challenge" is an attempt to remove or restrict materials, and a "ban" is the removal of those materials from school curriculum and the school library collection.
Banned Books Week held from Sept. 18-24 celebrates the freedom to read, and encourages people to inform themselves about censorship.
Dunbar librarian Mrs. Summer Perry said that she staunchly believes students should have the freedom to choose what they want to read about.
"Being a librarian is encouraging and defending the rights for people to choose what they want to read– especially in high school where students are forming opinions," she said. "Just because you find something offensive, doesn't mean we need to pull it from the shelves and not have anyone read it. There are a lot of topics in the library that anyone could find offensive."
"
Being a librarian is encouraging and defending the rights for people to choose what they want to read
— Mrs. Summer Perry
Dunbar's SBDM (School-Based Decision Making) council has a policy in place to handle situations at the school. It states that someone challenging a book first needs to read the book, and then cite specific reasons why the book should not be in the PLD library. Once the challenge is presented to the school, it goes to a committee to decide if the book needs to be pulled from the shelves. 
"Some districts do not have the same policies we have where each individual book has to go through a process," Mrs. Perry said. "Librarians are realizing we need strong policies and procedures in place for challenged books."
Many parents are concerned about their children reading "inappropriate" content or offensive subjects. Books that deal with LGBTQ+ issues have been the most challenged in recent years. 
"Everyone needs representation here," Mrs. Perry said. "We have students anywhere on the LGBTQ spectrum, so it's like telling a student that your lifestyle and your feelings are not valid, and you will not be represented in my library." 
The popular book, To Kill a Mockingbird, has been challenged in other schools for controversial topics of race and adult themes. Dunbar English teacher, Mrs. Amber Faris, continues to teach To Kill a Mockingbird, regardless of the banning in other schools. 
"To Kill a Mockingbird is an excellent novel to pair with more modern young adult novels that tackle similar subjects with more diverse characters," Mrs. Faris said. " It allows students to see judgment through different lenses of race, class, gender, stereotypes, and the American court system and does so with historical accuracy. The book teaches empathy in a relatable way."
Mrs. Perry agrees that books can teach students more than content.
"Reading and fiction build the empathy part of the brain," she said.
PLD Lamplighter polled Dunbar students to find their views on banning books. In this poll, 90% of students claimed banning books does not protect kids and 52% of students claimed books should not be banned.
"There is no point," said junior Meher Saini. "It is going to be learned and acknowledged anyway so why should the school choose what we learn and when we learn it? In high school [banning books] is unnecessary, people can find anything anywhere. Trying to filter it at school won't do much."
Senior Chloe McCain agreed. She said that she thinks banning books is "stupid."
"I do not think banning a book will hide information from kids. We have the internet. Books should only be banned if they are imposing serious moral indecency and the age group that has access to it cannot handle that type of imprinting of information yet." 
However, some students do think that books with mature content should have warnings.
"I think that when a book has gore which seems too inappropriate for a young reader, the library should not ban the book but signal a warning on the cover of the book," sophomore Addison Ingram said. "I believe that kids should be exposed to things that have happened in our history no matter how disturbing. It should be up to the kids and parents to decide whether or not that book should be read."
Dunbar High School celebrates Banned Book Week by displaying a banned books display in the library for all of September. 
"I make sure students understand that the banned books display is to honor the fact that students can read those books," Mrs. Perry said. "Education and awareness is the number one thing that I can do as a librarian to support Banned Books Week."
About the Contributors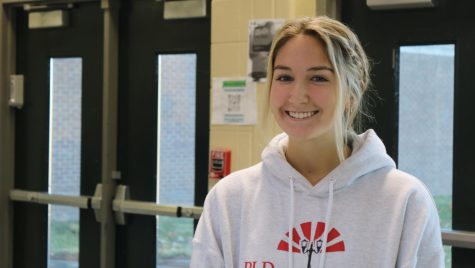 Allison Cassell, Contributing Writer
Hi, I'm Allison! I'm a senior and this is my first year on the PLD Lamplighter staff. I have always loved writing since I was in elementary school....