'Andy at 5' Keeps Kentuckians Connected
Governor Andy Beshear reassures Kentuckians at 5 p.m. every day, and his leadership has made him very popular.
Kentucky's 63rd Governor, Andy Beshear, has been in the spotlight since the first coronavirus case in Kentucky was confirmed on March 6.
Beshear has gained popularity through his nightly briefings at 5 p.m. to update the number of positive cases, how to stay safe and flatten the curve, relief opportunities for those who have lost their jobs or need assistance, and reassurance that everything will be okay.
Many people have said that his briefings at 5 p.m. are now set aside as a daily viewing. One Bowling Green newspaper even reported on Kentuckians calling 5 p.m. "Andy Time."
"
The Governor is popular among Kentuckians for his perseverance and positive outlook.
"I watch 'Andy at 5' when he gives his updates each day. I think he's doing a great job. He took significant action as soon as the virus started spreading in the country, and his action helped us contain the spread more effectively and quickly than in other states like Tennessee," junior Zach Susini said.
His updates always include reasons why his orders need to be followed and should be taken seriously.
"The next two to three weeks are going to be absolutely critical in our battle against the coronavirus. What you are doing is working. Your sacrifice is helpful. What we have done and the steps we are taking are helping. I am proud of what we are doing, but in these next two weeks we have to do even better," Beshear said.
The Governor is popular among Kentuckians for his perseverance and positive outlook.
"Beshear is doing a great job at conveying how important social distancing is and how essential it can be to slow the spread and saving Kentuckians. He's also unafraid to call out the foolish behaviors of those ignoring guidance to social distance and emphasizes how dangerous and costly their actions can be," Susini said.
At the beginning of every briefing, Gov. Beshear asks Kentuckians to repeat with him: "We will get through this. We will get through this together." 
He said he wants to start meetings in a way that's reaffirming. And for many, the structure and familiarity are comforting.
"I feel like things are going smoothly here in Kentucky, and the actions Gov. Beshear has taken have had positive impacts," junior Emily Spores said.
Gov. Beshear is not only gaining attention in Kentucky but also nationally. He was recently named the most popular Governor in the U.S.
As states in the US South and Midwest see their coronavirus infection rates grow, the rate remains notably low in a state with some of the worst health outcomes nationally.
Gov. Beshear has drawn bipartisan praise for navigating the outbreak in a calm and decisive manner.
In making light of dark times, memes have been circulating Twitter and Facebook showing Beshear tackling the coronavirus.
There is a Facebook group called "andy beshear memes for social distancing teens." One specific video shows Beshear vs. the Coronavirus to the song "U Can't Touch This" by MC Hammer. The group has 217,600 members as of April 6 with members as far away as the United Kingdom.
The moderators of the group say that they get over 10,000 posts each day, most of them memes honoring Gov. Beshear and his leadership in Kentucky.
About the Contributors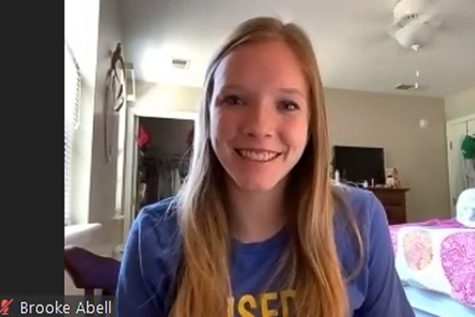 Brooke Abell, Writing Editor In Chief
My name is Brooke and this is my 4th year on staff. I am one of the writing editors in chief this year.

Ever since my freshman year in the program,...