Gun Sense Group Visits Dunbar Club
On Sept. 4 the Dunbar Young Democrats held their bi-weekly meeting with guest speakers Linsey Sugarman and Kathi Crowe from Moms Demand Action.
Moms Demand Action is a non-profit, non-partisan gun safety advocacy organization established after the Sandy Hook tragedy in 2012. The organization, which is a part of Everytown for Gun Safety, has nearly six million supporters across the US and a chapter in every state. 
The guest speakers spoke of their organization and what they call "gun sense." The advocacy of gun sense consists not of taking guns away but instead installing precautions such as background checks before buying guns.  
"It's not true that we want to take people's guns away. We want people to have background checks, to have red flag laws, and we're about keeping guns out of bad peoples' hands," Ms. Sugarman said.
According to the Washington Post, there are an estimated 120.5 guns for every 100 American citizens or roughly 1.2 guns per person.  That means that there are over 392 million guns in the US for the 327.2 million US citizens. There are enough firearms in the United States for every citizen to have one and still have more than 65 million firearms left over. 
While Moms Demand Action is mostly centered around gun violence in schools, they also advocate for general gun violence awareness such as the involvement of firearms in teen suicides.
"Mass shootings get all the news, but in the US 100 die by guns every single day," Mrs. Crowe said.
Throughout the 116th session of Congress, Everytown for Gun Safety will be working and meeting with representatives to get H.R.8 passed. H.R.8 is a bipartisan bill sponsored by Representative Mike Thompson that, if enacted, will reinforce and establish new requirements for background checks.
20 states already have background checks when buying firearms from licensed sellers such as Walmart or Lexington's Bud's Gun Shop and Range. 
On top of these state laws, there is a federal law–known as the Gun Control Act of 1968–that prohibits certain people from buying firearms such as former felons. But current laws exclude unlicensed sellers from requiring background checks. 
Millions of Americans, 22% of gun owners, acquired their guns without a background check.
This bill would require background checks for all gun sales regardless if it's from a licensed dealer or unlicensed seller. When purchasing a gun from unlicensed sellers, it would be required to meet at a licensed dealer in order to undergo a background check. 
Most recently, Everytown for Gun Safety has developed a new advocacy group known as Students Demand Action. This new group is student lead and fights towards ending firearm violence. They are currently trying to establish a chapter in Kentucky.
About the Contributors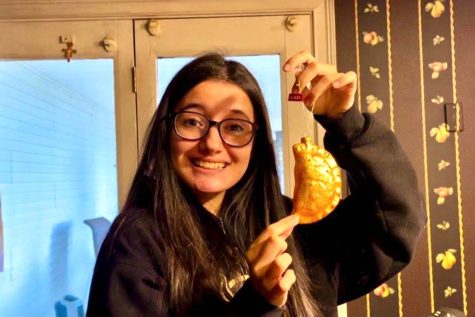 Victoria Bravo, Editor-in-Chief
Hi there! My name is Victoria Bravo, I am an Editor-in-Chief, I love hiking, and I hate ham. I oversee our writing department and I supervise all articles...