Dunbar Alum Authors Scientific Publication
Dunbar MSTC graduate and former Lamplighter Editor-in-Chief Emily Liu was recently published by the Centers for Disease Control and Prevention.
Emily Liu, a member of Dunbar's graduating class of 2017, was a student in the Math, Science and Technology Center (MSTC). Liu completed a 360-hour Capstone Research Project at the University of Kentucky during her senior year, and on Oct. 12 her research was published in the 14th volume of Preventing Chronic Diseases (PCD), a journal published by the Centers for Disease Control and Prevention (CDC).  It also won the 2017 Student Research Paper Contest for the high school category.
Liu said "I didn't think I was going to win. I just wanted to get published. I would have been happy to be first author."
Although this is Liu's first time as the first author on a paper, it is her fourth publication. She is listed as an author of another paper in PCD, as well as papers in the Journal of Rural Health and the International Journal of Environmental Research and Public Health.
Liu conducted research under Dr. Alison Gustafson in the Department of Dietetics and Human Nutrition. The study investigates the relationship between health interventions in grocery stores and the purchase of fruits and vegetables.
"I didn't want to do benchwork research… I knew I wanted to do research in the Appalachian area and I looked online and found like three professors that were doing research there and [Dr. Gustafson] happened to be free environment and real health nutrition which I wasn't super knowledgeable about but the more I started working with her, the more I started liking it," Liu said.
Grocery store managers were contacted through UK's Cooperative Extension service and the 17 participating stores set up a Plate It Up Kentucky Proud marketing campaign to promote healthy choices.
"I would go out a couple times and survey the people myself which was a really awesome experience," Liu said.
Liu told PCD Sound Bites that "We found that, of all the interventions, recipe cards, specifically, resulted in some notably significant findings. For example, 49 percent of participants reported that the recipe cards influenced them to purchase ingredients from the recipe. And 39 percent indicated that recipe cards influenced purchasing of fruits and vegetables in general."
Liu is currently a freshman at the University of Pennsylvania in the University Scholars Program.
"I'm trying to figure out what I want to do here.  I definitely loved the stat and survey part of my project but I wanted to move away from nutrition and more towards policy… I don't think I want to be a researcher but I definitely want to continue research in school."
About the Contributors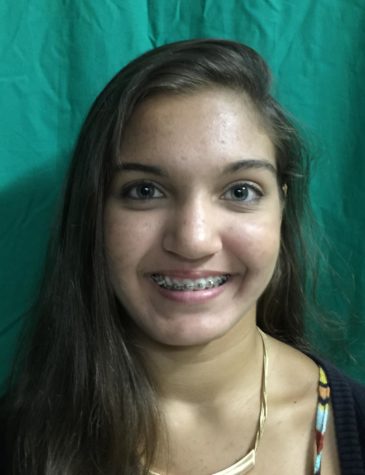 Julia Radhakrishnan, Staff Reporter
My name is Julia Radhakrishnan and I am a sophomore in MSTC. This is my first year on the Lamplighter and I am very excited to be part of such a talented...