2017 Senior Awards Night
The event, held at 6 p.m. on May 10 in Dunbar's auditorium, featured awards from over 50 different colleges and organizations.
This year, Senior Awards were handled a little differently.
"We asked students how they would like to improve the event, and one of the suggestions was to have students be more involved," said Guidance Secretary Mrs. Jessica Gibson.
Faculty Cup winners Jack Stokley and Addie Brown were announced early so that they could emcee the event on May 10th. This will start a new tradition at Dunbar in which the winners of the Faculty Cup will be the hosts of future events.
"The Faculty Cup is voted on by Dunbar faculty, and they choose the two students who excel at leadership, so the role of emcee fits," said Mrs. Gibson.
Another change this year was also voted on by students who wanted a more interactive experience. PLD Lamplighter provided multimedia presentations for the event that included descriptions of each award as well as pictures and a short video.
Senior awards were split into day time and evening sessions due to the large number of students being recognized. Day time awards, for both underclassmen and seniors, included classroom awards and medallions for various school subjects like Algebra I or U.S. History presented by staff members, whereas evening awards were reserved mostly for presenters from the community.
In the evening ceremony, over 120 seniors were honored by colleges and community organizations such as Kentucky American Water and the Junior League of Lexington.
College and Community Senior Award Recipients (evening program):
Parker Abell: Transylvania University Scholarship
Sameer Ahmed: National Merit Finalist and Transylvania University Scholarship
Andrew Albrecht: National Merit Finalist
Rest Aliu: Senior Class Historian Recognition and University of Kentucky William C. Parker Diversity Scholarship
Sarah Allen: University of Kentucky Provost Scholarship
Alexander Alonso-Ibarra: Eastern Kentucky University Scholarship
Noah Andry: University of Kentucky Provost Scholarship
Valeria Ascencion-Santiago: Morehead State University Scholarship
Reagan Atchison: 11th Region Athletic Director's Sportsmanship Award
Cesar Avila: University of Kentucky William C. Parker Diversity Scholarship
Mikah Bailey: US Army Reserve National Scholar Athlete
Jan Balk: Perfect ACT Score and National Merit Finalist
Adrian Bard: University of Kentucky William C. Parker Diversity Scholarship
Hunter Bargo: Morehead State University Scholarship
Seneca Blackford: YMCA Black Achievers Scholarship and Transylvania University Scholarship
Elizabeth Blair: University of Kentucky William C. Parker Diversity Scholarship and University of Kentucky Provost Scholarship
Brooke Bledsoe: Hannah Landers Humanitarian Writer Award and Western Kentucky University Scholarship
Catherine Bohnett: University of Kentucky Provost Scholarship
Addie Brown: PLD Faculty Cup 2017
Matthew Browne: ST Roach Scholar Athlete Award
Sadie Buck: The Lexington Singers Outstanding High School Choral Music Student Award
Anna Burch: Transylvania University Scholarship
Brandon Burford: University of Kentucky Provost Scholarship
Eric Cao: US Marine Corp Scholastic Excellence Award
Madeline Carter: Jesse Higginbotham Technology in Media Award, PLD Athletics Frank Watson Coaches' Award, Indiana University Journalism Scholarship
Thomas Cheal: National Merit Finalist
Yoon Cho: Lexington Philharmonic Guild- Orchestra Award
Mackenzie Clay: United States Air Force Academy Acceptance Award
Ireland Coiner: University of Kentucky Provost Scholarship
Erin Connors: Luke Sink Award and National Society of Arts & Letters- Music Award
Kyle Cooper: Morehead State University Scholarship
Kaitlynn Craig: Western Kentucky University Scholarship
Ellen Danford: Western Kentucky University Scholarship
Corrie Davenstein: Kentucky Army National Guard Tuition Award Scholarship
Jayde Dellagnolo: University of Kentucky Provost Scholarship
Michael Di Girolamo: University of Kentucky Presidential Scholarship
Jessica Durbin: University of Kentucky Provost Scholarship
Emilee Egbert: National Society of Arts and Letters- Creative Writing Award and University of Kentucky Provost Scholarship
Lorraine Fay: Lexington Philharmonic Guild- Band Award
Hannah Fitzpatrick: Western Kentucky University Scholarship
Luke Florence: University of Kentucky Provost Scholarship
Steven Ford: University of Kentucky Provost Scholarship
Alivia Gasset: Sullivan University Scholarship
Jocelyn Geoghegan: University of Kentucky Provost Scholarship
Harrison Grabmayer: University of Kentucky Provost Scholarship
Annie Griffith: National Merit Finalist
Zachary Hall: Transylvania University Scholarship and National Society of Arts and Letters- Art Award
Sarah Han: National Merit Finalist
Lauren Harshbarger: University of Kentucky Provost Scholarship, Daughters of American Revolution Good Citizen Award, and American Legion Award
Carter Hayslett: University of Kentucky Provost Scholarship
Richard Haywood: National Merit Finalist, Air Force Academy Acceptance Award
Kallie Helard: Morehead State University Scholarship
Autumn Herriford: Dunbar Athletics 2017 Ms. Bulldog Award
Natalya Hippisley: Lexington Lions Club $500 Scholarship and University of Kentucky Presidential Scholarship
Taveion Hollingsworth: Dunbar Athletics 2017 Mr. Bulldog Award and PLD Athletics Outstanding Senior Athlete Award
Elizabeth Howard: National Merit Finalist
Matthew Inman: PLD Athletics Frank Watson Coaches' Award
Samuel Jackson: Morehead State University Scholarship
Jasmine Johnson: Historic Pleasant Green Missionary Baptist Church Award
Raquel Johnson: YMCA Black Achievers Scholarship
Devin Johnson: Kentucky Army National Guard Tuition Award Scholarship
William Johnson: Northside Lexington Lions Club Award
Grace Kelly: US Marine Corp Distinguished Athlete Award
Tessa Kelty: Junior League of Lexington Volunteer Service Award 2017
Taylor Kemper: National Society of Arts and Letters – Dance Award
Cassidy Kemplin: University of Kentucky William C. Parker Diversity Scholarship
Benjamin Keplinger: University of Kentucky Provost Scholarship
Conor Kilgore: University of Kentucky Provost Scholarship
Joshua Kilian: Western Kentucky University Scholarship
Carlo Labianca: National Merit Finalist
Emily Liu: National Merit Finalist, Pat Esrael Media Award, Ripple Effect Scholarship from Kentucky American Water
Chad Livesay: University of Kentucky William C. Parker Diversity Scholarship
Alexis Logan: Delta Sigma Theta Sorority Loretta Nickens Award
Amit Lohe: National Merit Finalist
Francesca Macchiavello Cauvi: National Merit Finalist and Outstanding Senior Athlete
Dennis Mashindi: Coca-Cola Scholar and McConnell Scholars Program
Paul McIntyre: US Marine Corp Distinguished Athlete Award, University of Kentucky Provost Scholarship, and University of Kentucky William C. Parker Diversity Scholarship
Erika Melendez: University of Kentucky William C. Parker Diversity Scholarship
Nathan Merryman: Sullivan University Scholarship
Michael Merryman: Sullivan University Scholarship
Joey Michael: Senior Class President Recognition
Brian Miller: US Marine Corp Semper Fidelis Music Award and National Merit Finalist
Ananth Miller-Murphy: National Merit Finalist
Charlotte Muyumba: University of Kentucky William C. Parker Diversity Scholarship
Mallory Newman: University of Kentucky Provost Scholarship
Caleb Norris: University of Kentucky Provost Scholarship
Cameron Northcutt: University of Kentucky William C. Parker Diversity Scholarship
Nisarg Patil: National Merit Finalist
Arunmani Phravorachith: Lexington Herald-Leader Harry Reiser Journalism Award
Matthew Pitts: National Merit Finalist
Zachary Powell: National Merit Finalist
Terence Powell: University of Kentucky Provost Scholarship
Abby Rawls: ST Roach Scholar Athlete Award
Kaitlyn Reese: University of Kentucky Provost Scholarship
Javea Richardson: University of Kentucky William C. Parker Diversity Scholarship
Adam Rogers: Western Kentucky University Scholarship
Jimmy Rutherford: National Society of Arts and Letters – Drama Award
Daniela Sanchez-Gutierrez: University of Kentucky Provost Scholarship and University of Kentucky William C. Parker Diversity Scholarship
Meilin Scanish: Senior Class Vice President Recognition
Jordan Scholl: Senior Class Treasurer Recognition
Abigail Schweighardt: US Marine Corp Semper Fidelis Music Award
Mason Sheets: University of Kentucky Provost Scholarship
Jack Sheroan: PLD Athletics Cameron Mills Sportsmanship Award
Arya Shoa: PLD Lamplighter Media Award
Grace Slater: US Army Reserve National Scholar Athlete and University of Kentucky Provost Scholarship
Courtney Smith: University of Kentucky Provost Scholarship
Kamryn Stewart: University of Kentucky Singletary Scholarship
Jack Stokley: PLD Faculty Cup 2017 and UK Enoch Greham Memorial Journalism Award
Allison Susman: University of Kentucky Provost Scholarship
Ella Sympson: University of Kentucky Provost Scholarship
Victor Torres Gomez: University of Kentucky William C. Parker Diversity Scholarship
Natalina Vaccaro: National Merit Finalist
Michael VandenBerg: University of Kentucky Provost Scholarship
Mary Vezina: PLD Athletics Cameron Mills Sportsmanship Award and Senior Class Secretary Recognition
Chase Vickery: Jesse Higginbotham Memorial Garden Award, University of Kentucky Lester Scholarship and University of Kentucky Presidential Scholarship
Gbutue Vorkpor: University of Kentucky William C. Parker Diversity Scholarship
Dameon Walker: Western Kentucky University Scholarship
Amy Wang: US Marine Corp Scholastic Excellence Award and Senior Class Treasurer Recognition
Thirushan Wigna-Kumar: National Merit Finalist
Mikayla Wilson: Eastern Kentucky University Scholarship
Rozalyn Wingate: 2017 PLD Poet Laureate and Kincaid Foundation Scholarship
Taylor Wright: University of Kentucky Provost Scholarship
Benjamin Xie: National Merit Finalist and Senior Class Secretary Recognition
Markel Yeast: 11th Region Athletic Director's Sportsmanship Award and Bluegrass Community Foundation Scholarship
Katie Yoder: National Society of Arts and Letters- Outstanding in Creative Arts
Autumn York: University of Kentucky Provost Scholarship
About the Contributors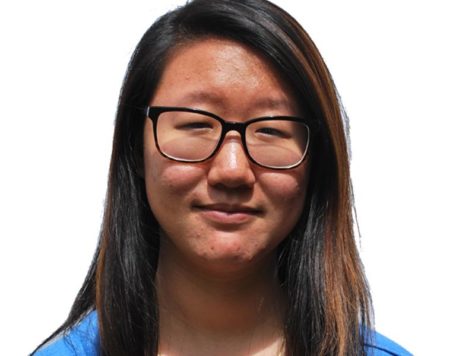 Emily Liu, Editor in Chief
Netflix, anime, scifi, sarcasm, Lamplighter- Live it Love it Breathe it