ESL Students Embrace Halloween Traditions
Mrs. McNely taught students in Dunbar's English as a Second Language (ESL) program how to carve pumpkins and introduced them to other staples of the season, such as apple cider and Michael Jackson's "Thriller."
On Tuesday, French and English as Second Language (ESL) teacher Mrs. Jennifer McNely, celebrated Halloween with her students. In her A3 English Development Class, her students had the chance to carve pumpkins.
"This class is a lot like a French one or Spanish one class," Mrs. McNely said. "They learn the English language, as well as the cultural aspects."
Since Halloween is an important cultural aspect in America, Mrs. McNely wanted to help students celebrate this day and then asked them to write about the experience.
While they carved, the class listened to Halloween music, including Ray Parker Jr.'s "Ghostbusters" and Michael Jackson's "Thriller." Students also had the chance to try apple cider.
The pumpkins were provided by Whole Foods and Mrs. McNely printed multiple stencils for the students to choose from. She created an atmosphere that allowed the kids to learn about this holiday and express their artistic sides. As many Americans who carve pumpkins light them with candles inside, the class followed suit.
"Because the kids probably can't take the pumpkins home, I probably will plan to make pumpkin pie for them to try out for Thanksgiving," Mrs. McNely said.
About the Contributors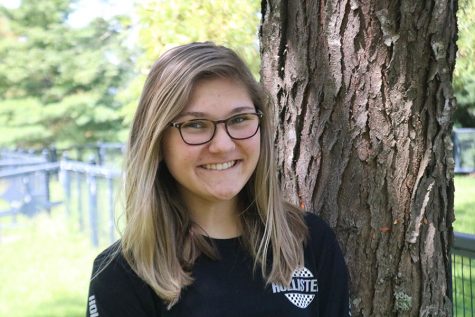 Hannah Chambliss, Writing Editor
My name is Hannah Chambliss and I'm on the Editorial Board as well as writing editor. One of my favorite things to do is write. I've been writing ever...