Why Lamplighter?
Simply put, it could change everything
January 27, 2016
I'm not writing this to be cheesy; I'm not writing this to impress readers with my experiences or to boast my accomplishments. Instead, I'm writing this as a testimonial – a chance for the students of Dunbar to understand the importance of being involved in something as massive and wide-reaching as PLD Lamplighter Media Productions.
Background
I've enjoyed writing since the time I was a little girl, so the opportunity to take a class named "newspaper" was obviously appealing. I knew I was interested in the field of journalism, specifically sports-related broadcasting, so I was excited to learn more about the profession. I arrived at the large double doors located at the bottom of the ramp, and I snatched an application. At home that night, I read over the application and was immediately intimidated. Attach a sample of my work? I loved writing, but my pieces were mostly limited to book reports and AP-style essays. What kind of Adobe software can I use? I'd heard of PhotoShop, of course, but had never attempted it. And, most daunting, why did I want to become a member of the PLD Lamplighter?
I used my love of writing to fill out the application to the best of my abilities, and I figured it would be enough to get into the class. When my schedule was posted on Infinite Campus over the summer, I was relieved to see that I had been enrolled in Newspaper under the direction of Mrs. Wendy Turner.
At a Glance
My junior year was not easy. I struggled to balance a class load packed with AP classes, studying for the all-important ACT, and remain involved in extracurriculars such as club swimming and school-based clubs including the National Honor Society, Beta Club, and student government. To top it off, I came down with a mysterious illness that kept me asleep for upwards of 15 hours a day and infected me with a weak immune system that led to the flu and strep throat. As I said, junior year was not easy.
I had one class that I truly looked forward to. Clearly, this class was Newspaper. The class was very different last year, and our goal was to solely write articles. I worked with the Editor-in-Chief Pam Stravitz, a young woman who is responsible for improving my writing as much as an English teacher ever has, and I learned the rules of journalism.
Besides the obvious, I learned and experienced a proper interview; I learned new vocabularies such as pull quotes and b-roll; I worked with Adobe software to create visuals for the first time. My adviser, Mrs. Turner, met me as a quiet junior who liked English, and she transformed me into a confident journalist.
"
I don't know if anything will feel as right to me as doing journalism at Dunbar did"
— Pam Stravitz
Because of this, I was chosen as the Editor-in-Chief for my senior year. Once we learned about the merging of TV Production and Newspaper, the name of the class was changed to Broadcast Journalism, and the name of the "paper" became PLD Lamplighter Media Productions. As an editor, I am responsible for overseeing everything. When I say everything, I mean it – we do just about everything possible. Besides writing, we've added the weekly news segment and expanded on projects involving photography, social media, the school radio station, the jumbotron in the gymnasium, and of course, our national-award winning podcast series, Torch. Because of these changes, I truly believe the Lamplighter has something for everyone. Even if you've never considered joining this group of talented, unique individuals, I think you may change your mind by the end of this article.
The Impact
In journalism, there are stories that change you. This much is obvious. However, I had no idea these opportunities would become available to me by simply writing for my high school newspaper. During the first semester, Pam approached me with an article idea. She explained that one of Dunbar's custodians, Bob Stone, had been diagnosed with terminal cancer. She didn't know how much longer he had to live, and she worried students at Dunbar would have no idea of his eventual passing. Just by listening to her briefly describe his situation, I knew I wanted to cover this. I found the names of teachers at Dunbar who were especially close to him, and I set up interviews with them as Pam contacted Stone himself. Unfortunately, I was unavailable to attend the interview. I was heartbroken to miss the opportunity to meet with him in his own home, but I knew my editor would retrieve the information I needed in order to make an impact at Dunbar.
The day after the interview, she emailed me an audio recording of their interview. From start to finish, the interview was nearly 45 minutes long, and I spent an entire class period transcribing the recording onto a word document. Then the next class, I listened to it again. And again. And again. I'd had the honor of speaking with Mr. Stone a few times in the hallways throughout my high school career, but that came nowhere close to preparing me for listening to him describe his battle with cancer. I wrote the article in less than a day, and it was published on our website shortly thereafter. This was my first powerful article, and I was proud of my work. Less than a week later, Bob Stone passed away. Mrs. Turner broke the news to Pam and me one day during class and informed us that the article was shared at his funeral. I excused myself to the restroom where I stood in the stall and cried. I had only met him in person a handful of times, but his smile and positivity will live with me forever.
Although this story is the one that comes to my mind first when I think of impactful moments on the Lamplighter, it certainly is not the only one. In my junior year, I covered other events such as the earthquake in Nepal and the rising Adderall abuse found in high schools. Transitioning to my senior year, I worked with underclassmen to spotlight Dunbar's memorial garden as well as a student diagnosed with osteosarcoma, an uncommon form of bone cancer.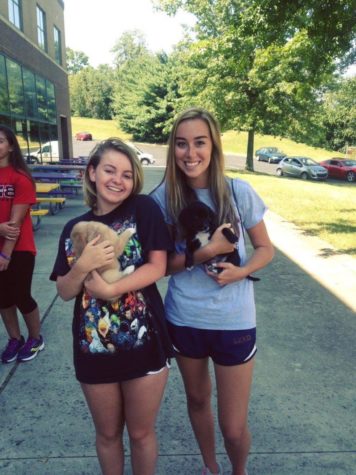 So no, writing for the newspaper is not all giggles and fluff pieces. It can get dark, and it can sometimes be downright sad. But that's journalism – not every story has a happy ending. In order to truly instigate change and bring attention to the issues that matter, it is important our staff covers all aspects of the school. In my opinion, this is the best part of being a part of such an influential organization. We are the gatekeepers – we have the power to inform the students about everything happening around our school.
Happy Endings
Not all stories have a happy ending, but lots of them do.
As I mentioned earlier, I am interested in studying to become a sports-based journalist. Because of this, I've written countless game stories, I've attended several signings, and I've interviewed dozens of players and coaches. With the Lamplighter, I am also able to work on "Student Athlete of the Week." As Editor-in-Chief, I choose the athlete based on his or her recent performance, and I conduct in-depth interviews. Over the past two years, I've interviewed some of the top athletes Dunbar has to offer, and this publicity helps both the Lamplighter as well as the student-athlete.
Sports get a lot of the glory in high school, so the media obviously reflects this. We offer galleries after most sporting events, obtain footage for highlight videos, write game stories and work the jumbotron in Dunbar's gym, S.T. Roach gymnasium. Clearly, this opens a huge variety of opportunities for staff members: you can photograph, film, write, broadcast, or even combine these options. If being on camera isn't appealing to a staff member, there is work behind the scenes doing editing. By the first few weeks of school, members are able to operate the technology responsible for producing our weekly news segment. By the end of the year, members are equipped with the skills of a working journalist.
Long-Term
The Lamplighter is obviously a significant part of my life. Although I realize this dedication will decrease as I graduate and begin life in the "real world," a small piece of my heart will always belong in room 203.
2015 was the 25th year Paul Laurence Dunbar High School was in operation, so, in a form of celebration, I contacted and interviewed members of the original Lamplighter staff. They shared their stories, most of which involved co-editors Michelle Terwilleger and Michelle Briscoe. ­­­­­Even today, 25 years later, the pair still remains in contact. "Spending that many late evenings debating in that room tends to bond you to a person," said Briscoe.
This, as well as the experiences I've mentioned, has taught me the value of the Lamplighter. It's more than a newspaper, and it's definitely more than a class: it's a family. Our time spent together greatly outnumbers the time slot of one block.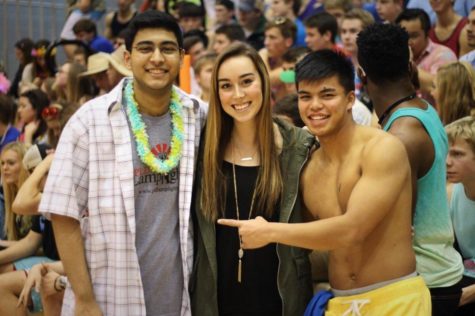 As a former EIC, Pam understands the transition I am about to undergo.
"I wanted to make it award-winning so I'd leave something when I left," said Stravitz. "I regret leaving, not that I could have done anything to stay."
Because of her incredible talents as a writer and multi-media journalist, Pam is currently writing for a few news publications near her new home at Northeastern University in Boston.
"I don't know if anything will feel as right to me as doing journalism at Dunbar did," Stravitz said when asked about the lasting impacts of working with the Lamplighter. "But I'm trying my best to find it."
So… Why?
If it hasn't been made clear by this point, I'm worried it never will. But, just in case the stories of inspirational interviews and endless possibilities weren't enough for you, here are a few (less emotional) reasons why you should join the lamplighter:
No finals! In fact, in the first semester, our final is a Secret Santa gift exchange.
Graduation cords! Everyone wants a decorated gown at graduation, and being on staff entitles you to a "Quill and Scroll International Journalism Society" cord and special recognition at the graduation ceremony.
Letters of recommendation! Nearly every college or scholarship requires a minimum of one letter of recommendation. Mrs. Turner's letters have such a good reputation they often cause fighting in the hallways once she posts the signup sheet. Only the first 25 students who sign the paper receive a letter, and Lamplighter students often have an upper hand.
T-shirt! That's right – staff members get to enjoy perks such as a Lamplighter t-shirt
Field Trips! The class attends a state-wide journalism conference annually.
Networking! Mrs. Turner has connections in places you would never imagine. To give you an idea, she has good relationships with staff members from the Boston Globe, USA Today, TIME Magazine, the New York Times, the Miami Herald, the Harvard Crimson, and The Advocate. If journalism is something you're even slightly considering, she is someone you definitely want on your side.