Beloved Custodian Leaving Dunbar
Bob Stone will be leaving Dunbar after 14 years due to a long-term illness
Fourteen years ago, Bob Stone took his first steps into Paul Laurence Dunbar High School.  The school had only been open for ten years, and Stone was young and inexperienced.  Yet, as  he walked in the school, he was completely unaware of the influence this school would have on his life. Now, all he wants to do is go back.
Earlier this year, Stone was diagnosed with lung cancer.
Although the diagnosis was initially shocking, Stone is thankful for the time he has spent at Dunbar.
"I've been trying to stay very strong through all of this, but it's been difficult," said Stone.  "I've been very blessed to have been a part of Dunbar, and I can't think of a better school."
Flashback to 1973.  Stone is enrolled at Northern Illinois University, just over an hour away from his hometown of Joliet, Illinois.  Displeased with the university, however, Stone decided to enter the workforce.  A few years later, some of his friends decided to head south, and moved to Lexington, Kentucky.  After receiving a letter from these friends saying how much they loved the city, Stone was persuaded into relocating.  He's been here ever since.  Now, unfortunately, Stone will be leaving Lexington to live with family in Chicago.
"I've lived in Lexington for 36 years.  I've lived here longer than I've ever lived anywhere;" said Stone.
"This is my home."
"
Once a bulldog always a bulldog, and I consider myself a bulldog."
— Bob Stone
When Stone leaves Lexington, Dunbar will be losing much more than a custodian.  The school will be losing a hardworking man who always wants the best for the school, even when he's no longer there.
"I pray for every student, every teacher, every member of the staff [that] the Lord touches their hearts, and fills their hearts with his love, and compassion, and mercy, so that they can be saved too," said Stone.
Religion has been a major part of Stone's life for as long as he can remember, but he has just recently learned the importance of focusing on Jesus.
"I focus on Jesus, and that's what keeps me going.  That's what keeps me from walking around feeling sorry for myself or from having regrets.  Because no matter who we are, or where we've been, we've all messed up.  Anytime I stray from that focus, that's when my life would start to get a little bit messed up.  And that's how I realized I have to stay focused on Jesus. Otherwise, there's really no point."
He also hopes his sense of religion inspires the students of Dunbar.
"There's so many young people, and they don't have that [sense of religion], but they need that. They need that more than a science class or a math class or an English class.  Those kinds of things will get you through life when you're looking for a job or when you're trying to make a career for yourself.  But in the end, those things aren't going to mean anything when Jesus comes back."
He said that his strong sense of religion has helped him throughout his battle with lung cancer, as he has leaned on both his faith as well as his church brothers.  Many of these men assist him with driving to treatment, going to church, and simply helping him with everyday life.
Most of Stone' nuclear family still lives in Chicago and its surrounding suburbs, which is why he will be relocated there near the end of November.
Stone shared some of his fondest memories.
When he first began working at the school in 2000, he said that the principal at that time, Mr. Ray Woodyard, created the tradition of taking all of the teachers and staff members to breakfast at Cracker Barrel around Christmas. It was during this time that Stone said he first felt like a part of the Dunbar family.
He explained how many of the sport fields were still being developed and the football field was bare – no locker rooms, no concession stands, and only a small set of bleachers.
We used to set up tents around the surrounding area around the football field.  All the faculty and staff would be cooking steaks and baked potatoes and stuff like that, and they always included the custodians.  I really miss that part most of all, the family-like atmosphere we had."
It is this family-like atmosphere that has kept Stone strong.
"[It is] because of people like Cynthia [Jones] and so many other teachers that I've been able to carry on.  And now, the support and the love that everyone has shown me is beyond belief.  I don't even know how to express how grateful I am, how blessed I feel, because it's not been easy," said Stone.
English teacher Mrs. Cynthia Jones is one of the faculty members whom Stone developed a relationship with during his time at Dunbar.
"
I think Bob's most endearing quality is his happy spirit."
— Mrs. Cynthia Jones, English teacher
"I think Bob's most endearing quality is his happy spirit," she said. Every day that I saw him at Dunbar, he had a smile on his face and took time to say hello to me," said Jones.  Even during his illness, when I have visited with him, he's continued to stay positive and focus on others instead of himself."
In addition to relationships with other staff members, Stone is thankful for the connections he has formed with students over the past 14 years.
"There hasn't been a year that's gone by that I didn't get to know at least a handful of students.  They're all wonderful people, and they're all so sweet.
He also explained how he always felt appreciated at Dunbar.
"It's was just nice to know that with your work [as a custodian], that they still have a lot of respect for you. They don't treat you differently than anybody else that works there."
Stone's sense of Dunbar pride is never-ending, and he says that he considers himself blessed to have been a part of the Dunbar community for so long. He bragged, we always seemed to have the cream of the crop: the best teachers, the best administrators, the best students.
"Once a bulldog always a bulldog, and I consider myself a bulldog."
About the Contributors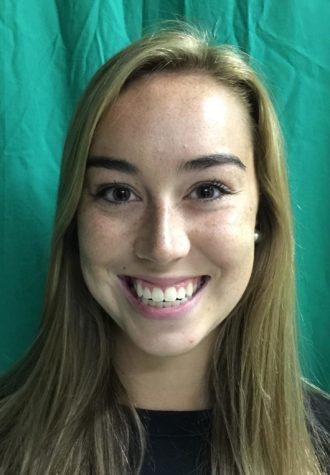 Maggie Davis, Editor-In-Chief
My name is Maggie. I'm Editor-In-Chief. I like smoothies and chocolate, but not chocolate smoothies.