Taylor Swift Releases Midnights Album
How do students feel about Taylor Swift's new album? Following her release, PLD students and teachers expressed their thoughts.
Taylor Swift recently released her 10th album, Midnights, on Oct 21. Midnights is her first full album since Evermore released on Dec. 11, 2020. 
"I'm enjoying this album," Dunbar English teacher Mrs. Amber Faris said. "I love dissecting the lyrics and having the songs grow on me with more listens. Taylor isn't afraid to share her vulnerabilities and that's why so many people can relate to her songs."
Senior Megan Mazza agrees.
"This album is very good. I'm loving it more and more as I listen to it. The album has a good balance of upbeat and mellow songs that keeps me listening. It's becoming one of my favorites," she said. 
Senior Jordan Ingram claims from a pop point of view, the album is amazing.
"This is my favorite pop album she's released," she said. "A lot of people just aren't into pop right now."
However, junior Paulina DeLaRosa Castillo said she did not like the album at first. 
"The first time I heard it, I didn't like it that much, but it's starting to grow on me," she said. "There are some songs with lyrics on them that are definitely questionable. The line in the song 'Anti-Hero' which says 'sometimes I feel like everyone is a sexy baby,' brought the song down three points." 
Junior Emma White agreed that some of the song lyrics were questionable. 
"The lyrics were inconsistent with her normal music," she said. "While the lyrics were very odd, I do feel like they fit into an album that was meant to be written in the "middle of the night."
Dunbar English and drama teacher, Mrs. Brooke Jackson, also believes Midnights stayed on theme. 
"Connotatively the idea of Midnights is restlessness–for love, for fear, for anger, for sadness," she said. "There is an uncanniness to it where you're in the world but it's not the one that everyone else sees. I think the songs match that in timbre and meet people where they are in the middle of the night."
Freshman Skylar Shields enjoyed the track lists from Swift's other albums more, and she said that she was disappointed with the album release. 
"
Connotatively the idea of Midnights is restlessness–for love, for fear, for anger, for sadness
— Mrs. Brooke Jackson
"The track lists of other albums are more fun to sing along to," she said. "There's no song on this album that makes me want to sing at the top of my lungs. When I think of Taylor Swift, I think of "Shake It Off" or "All Too Well." There's nothing in this album like those top songs that I feel are worth listening to. I think Taylor is an amazing singer, but this album was just not her."
However, Mrs. Jackson, believes there are not many bland tracks on the album. 
"Taylor is the queen of reinvention. No two albums sound the same," she said. "In a world where every song sounds the same, she's trying to be unique; this is evident from the tracklist. She's coming for a punch with every track."
Dunbar librarian Mrs. Summer Perry agrees. "Taylor has songwriting down to an art and I can appreciate her lyrics," she said. "I will listen to anything Taylor produces."
Many students and faculty claimed Midnights is a return to Swift's fifth album 1989. 
"This album is very reminiscent of her 1989 album," senior Chloe McCain said. "I can hear the old pop melodies and tone of voice in this album." 
Mrs. Faris agrees.
"This album is a return to 1989 in some ways as many songs are very pop-sounding with lots of layering, synthesizers, and strong beats. This album is absolutely consistent with the past music she's produced."
Senior Megan Mazza loves that Midnights is a mix of Reputation and 1989. 
"I love that Taylor likes to switch up the different vibes of each album. The style in her songs changes, but not the message or type of song genres she writes. I like that she can incorporate elements of her other albums into Midnight."
Senior Addison Cremeans agrees that Midnights was a combination of her past albums.
"This album is definitely very different from her other albums," she said. "It's a combination of her past albums thrown into one album, however, it was executed well."
Taylor Swift's first album, Taylor Swift, was a country album that made her the first female country singer to write an entire US platinum-certified album. Her following albums explored country pop. 
"Taylor's country albums are way better," senior Will Graves said. "She went from singing country songs to pop songs and the country was so much better. I was bored listening to this album."
Senior Valerie O'Nan also enjoyed Swift's country music better. 
"I absolutely loved her country albums," she said. "In Taylor's past few albums she's moved more towards the pop genre and her music is not as good. Her albums Fearless and Speak Now were way better."
Dunbar students and faculty were polled to see if they stayed up for the release of the album. In this poll, 69% of students and faculty claimed they did not stay up for the release, and only 31% of students and faculty claimed they did. 
"I did not stay up for the release,"  Mrs. Perry said. "I knew I'd be hearing it plenty."
Senior Ellie Richardson also did not stay up for the release of the album. 
"I didn't stay up because I had fallen off the Taylor Wagon years ago. I didn't know she was releasing it until I got the Spotify notification."
Taylor Swift broke the record for the most streamed album in a single day in Spotify history. The record was previously held by Drake (176.8 million streams) for his album Certified Lover Boy, released in Sep. 2021. 
"I'm thrilled people are recognizing her for the poet she is!" Mrs. Jackson said. "She was written off and mocked so much in her early career. She deserves all the hype!"
Mrs. Faris believes Taylor Swift is never overhyped. 
"She knows how to write a bridge like few other people in the business. The anticipation and involvement on her part are just brilliant and fun."
"No one does a good pop song edge like Taylor Swift," Senior Chloe McCain said. "I'm glad she's getting the hype she deserves."
Swift released the song, "Snow on the Beach," featuring the famous singer, Lana Del Ray, on the album as well. 
"The song "Snow on the Beach" was disappointing because she announced that it was featuring Lana and everyone got excited, but she's barely in the song," McCain said.
Junior Paulina DeLaRosa Castillo believes Lana Del Ray deserved better.
"She just got one line on 'Snow on the Beach' and I expected a verse," she said. "Since previously Phoebe Bridgers had gotten a verse when they did their collaboration, I thought Lana would've too."
Swift also released a Lavender Edition of Midnights that is exclusively sold at Target. The CD features three bonus tracks: "Hits Different," "You're On Your Own, Kid," and "Sweet Nothing."
In addition to the target exclusive CD, Swift released a surprise "3 a.m. edition" which featured seven additional songs that were not on the original 13 soundtrack list.
"A lot of the songs on the bonus albums are better than some songs on the actual album," Castillo said. "If the album had the songs 'High Infidelity,' 'Hits Different,' and 'Would've, Could've, Should've' in it, I think it would've gotten a lot more love than it did."
"I wish 'Hits Different' was on the album," Addison Cremeans agreed. "The album would've been better with that song on there."
On Nov. 1, 2022, Swift announced she will be going on a tour called The Eras Tour which will take place in the United States from March 18 -Aug. 5, 2023.
About the Contributors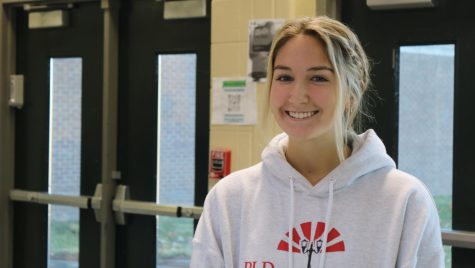 Allison Cassell, Contributing Writer
Hi, I'm Allison! I'm a senior and this is my first year on the PLD Lamplighter staff. I have always loved writing since I was in elementary school....