What's New this October
Popular movies, albums, and books coming to you this October.
Many people have things they are excited about this year. I can even attest to that because I will mark down the days until a new movie or album I'm waiting for comes out. So why not add to the excitement and remind fans of some of their favorite projects set to release this October. One of the most anticipated albums of the year, "Midnights" by Taylor Swift, is set to release on the twenty-first. This will be the singer and songwriter's 10th album. The tracklist is yet to be confirmed by Swift, but fans are excited nonetheless.
The film, "My Policeman", is an upcoming romantic drama film directed by Michael Grandage. It is based on the novel of the same name by Bethan Roberts and it stars Harry Styles. Emma Corrin, and, David Dawson. "My Policeman" will be released on the twenty-first.
The critically acclaimed and TikTok viral book, It Ends With Us by Colleen Hoover, is finally getting its long-awaited sequel, It Starts With Us. This story is told from Atlas's perspective in the first book and it shares the future of the series. It is planned to come on the eighteenth.
The Arctic Monkeys are also coming out with a new album. This album will collect the songs "There'd Better Be A Mirrorball", "I Ain't Quite Where I Think I Am", "Sculptures Of Anything Goes", "Jet Skis On The Moat", "Body Paint", "The Car, Big Ideas", "Hello You", "Mr Schwartz", and "Perfect Sense". The Car will be the group's seventh full-length album and is set to release on October twenty-first.
Since it is October, if you are into horror movies, we have a treat for you. Halloween Ends has Jamie Lee Curtis as Laurie Strode once again confronting Michael Myers, played by James Jude Courtney, in an effort to free herself from the fear she lives in. If you want even more horror this month, you're in luck. The Devil's Light sees the conflict a nun undergoes while performing forbidden exorcisms due to a global rise in demonic positions. These projects will be released on the fourteenth and the twenty-eighth respectively. 
If you're not a huge fan of horror movies but are a DC fan, Black Adam will be released on the twenty-first. It sees Teth Adam, played by Dwayne Johnson, coming into conflict with modern-day heroes due to his vengeful use of his powers granted by the gods. 
I hope you are as excited as I am for these upcoming fall releases.
About the Contributors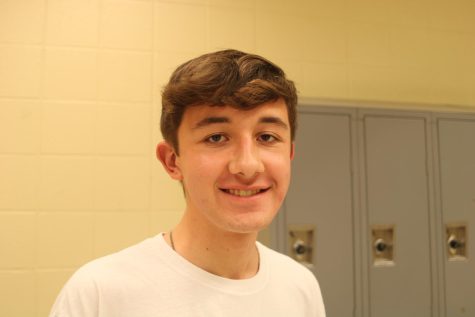 Peyton Gasser, Staff Reporter
I've always been fascinated with video. All the different aspects in unison can create a beautiful piece of art. That's why I am glued to any film or video...