Entertaining Ourselves in Quarantine
Several online platforms have experienced an increase in traffic as people are spending more time indoors.
During the beginning of the quarantine, people began using their technological devices to entertain themselves and hang out with friends virtually doing things like Netflix watching parties, Animal Crossing meetups, and virtual museum tours.
Messaging apps like Discord have also gained popularity. Even Youtube managed a 7.25% increase in traffic.
"Since quarantine started, I've only been able to see people in person like once a week, so I basically talk to people exclusively through Discord now," senior Benjamin Chen said.
Video games have also witnessed a surge in popularity. During the pandemic, Animal Crossing has become a craze with players creating their own island and building farms. According to CNBC, the game's escapism may explain why it has become such a popular game throughout the past few months.
"
Since quarantine started, I've only been able to see people in person like once a week, so I basically talk to people exclusively through Discord now."
— Benjamin Chen
But it's not for everyone.
"I played it a bit because the game came out during quarantine," senior Jason Yang said. "Then I quit because it became too much of a chore. Doing daily things like hitting rocks, finding fossils, checking turnip prices, and checking stores were fun at first, but the burden of being 'forced' to do them every day took a good amount of time out of my day and began to seem meaningless."
Another already popular social media app that's experienced increased traffic is TikTok.
With extra time on their hands, thousands of people participated in dance trends. Although there was a period of time when many users were worried about President Trump possibly banning TikTok, it's still available in the US after Microsoft confirmed they would be buying it.
"I feel the reason that they're so addicting is that the younger generations have increasingly short attention spans, and TikTok is specifically designed to appeal to that by having a bunch of short flashy videos," junior Emily Xiao said. "They automatically load one after another, so it's like a continuous stream of content. And I feel that our generation is very indecisive, so TikTok figures out what you like and decides for you."
So, does all this traffic online mean fewer in-person interactions?
While restrictions are still in place in Lexington, many are participating in socially distanced outdoor activities, but as fall approaches, people continue to rely on their digital devices for connection with the outside world.
Donate to Lamplighter Media Productions
Your donation will support the student journalists of Paul Laurence Dunbar High School by helping us cover our annual website hosting costs. All donations go directly to School Newspapers Online (SNO) to cover our fees.
About the Contributors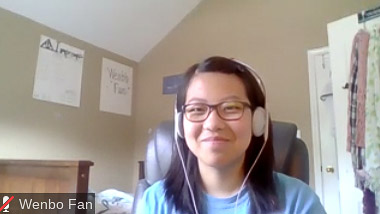 Wenbo Fan, Staff Reporter
My name is Wenbo Fan and this is my fourth year on Lamplighter. Since starting Lamplighter freshman year, I've learned that journalism can change the...