Disney Is Failing LGBTQ Youth
Representation is lacking where it's needed the most
True loves kiss, a little bit of pixie dust, and poison apples make up the Disney magic we all know and love. Even so, they are not without serious flaws.
Growing up I would watch the princess fall in love with the prince time and time again. It's what I expected. It's what I thought was normal. I never even realized I was living in a "family-friendly" bubble of heterosexuality.
While there has never been a Disney movie I haven't liked, I'm bored with the absence of LGBTQ representation. It's needed so it's disappointing that Disney hasn't jumped on board.
It's estimated that there are 3.2 million kids (ages 8-18) in America that identify as LGBTQ, and there are so many kids trying to figure out who they are. Alone, confused, and without representation, some may even think they were "made wrong."
Arguably, Disney has a special place in homes that no other company even comes close to. With this comes a responsibility to fully represent every walk of life and to make sure children are able to love themselves.
With that being said, Disney recently had an opening to show that they care and are adapting to the 21st century with the release of Frozen Two. 
"
The world is beyond ready for a gay Disney princess."
Many, including myself, were anticipating Queen Elsa to be the first LGBTQ main character in a feature film. However, the highly anticipated release left me disappointed. Disney missed an amazing opportunity to showcase its inclusivity and to truly step into 2020.
Disney has tried in the past to introduce LGBTQ characters, but they never get the attention they deserve. In the 2017 live-action remake of Beauty and the Beast, LeFou, Gaston's sidekick was confirmed to be gay. However, it was never directly said during the film, therefore, it was glossed over and forgotten. 
I appreciate the effort but it's not enough. 
I will, however, recognize the incredibly progressive show "Andi Mack" which aired on Disney Channel. During the second season, one of the main characters, Cyrus, came out as gay.
"I'm Gay" was said for the first time on the network.
This was a huge step in the right direction. Kids and adults at home were able to see what the real world looks like. LGBTQ kids especially were able to see they're not alone in their struggles. They were able to see they're normal. 
The argument people try to make in opposition to an LGBTQ Disney character is that they don't want their children learning to be gay or that it's not appropriate for young ages. The simple truth is homosexuality is not taught, but homophobia is. If a straight kiss is ok for young kids then so is a gay one.
When Disney chooses to shy away from representing the LGBTQ community they are essentially endorsing homophobia and bigotry. That's not exactly family-friendly.
But it doesn't have to be this way.
In an attempt to to combat racism, Disney made several movies featuring main characters of color such as Princess Jasmine, Pocahontas, Mulan, and Tiana. 
It's once again time for Disney to step up and lead. The time is now to be inclusive and add LGBTQ characters in feature films, especially by giving them their own place as main characters. 
The world is beyond ready for a gay Disney princess.
About the Contributors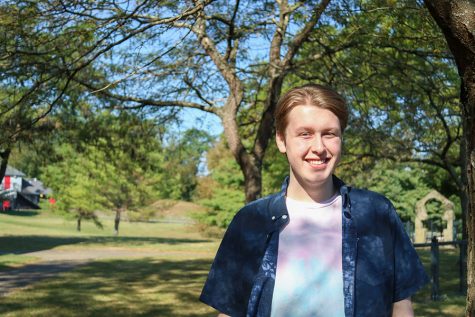 Anthony Mondelli, Chief Copy Editor
My name is Anthony Mondelli, this is my second year on the Lamplighter staff. I wouldn't want to spend my senior year any other way.

This year I'm...