Demi Lovato Makes A Tearful Comeback
Giving insight into her fight with addiction, the singer performed her new song "Anyone" at the Grammy's.
Demi Lovato, after nearly a year and a half, has finally returned to the spotlight following her 2018 drug overdose. Having almost lost her life Demi decided to step away from performing in order to rebuild her strength and sobriety. 
Demi chose this year's Grammy Awards to make her return and show the world she's back and better than ever.
Debuting her new song "Anyone" Demi gave a heartwrenching performance that provided insight into her state of mind just before her overdose. 
She had written and recorded "Anyone" only four days before her overdose. 
Draped in a beautiful white ballgown Demi took center stage accompanied by only a piano. 
Overcome with emotion, she had to pause and gather her thoughts when she first began singing. Once she began again, it was clear her performance would be the most memorable of the night. 
With a single tear streaming down her face Demi belted out lyrics that truly showed the impact of addiction on one's mental state.
"I tried to talk to my piano / I tried to talk to my guitar / Talked to my imagination / Confided into alcohol / I tried and tried and tried some more / Told secrets till my voice was sore / Tired of empty conversation / Cause no one hears me anymore," she began.
A clear cry for help. Simply feeling no one is listening to her. 
"A hundred million stories / And a hundred million songs / I feel stupid when I sing / Nobody's listening to me / Nobody's listening / I talked to shooting stars / But they always get it wrong / I feel stupid when I pray / So, why am I praying anyway? / If nobody's listening," she continued.
What was a beautiful performance earned her a standing ovation and several shoutouts from other stars.
"Oh Demi Lovato, you just tore me down. I'm so glad you're here to sing those words, to sing like that. You just gave the whole world a gift straight from the heart. Thank you," Pink tweeted.
"DEMI LOVATO. I am in tears. That is singing. That is heart and that is the truth," singer Sam Smith expressed on his Instagram story.
"I wish there were words to describe how beautiful, inspirational and DESERVED this moment was. Demi I'm so happy for you. Thank you for your courage and bravery," Selena Gomez said via Instagram.
It was clear Demi made a lasting impression on everyone who watched her performance.
Before her Grammy comeback, she sat down with Rob Lowe for her first interview since her overdose to speak about what happened. Speaking very candidly, Demi detailed her experience writing "Anyone."
"I wish I could go back in time and help that version of myself," she said. "I almost listen back and hear these lyrics as a cry for help, and you kind of listen back to it and you kind of think, how did nobody listen to this song and think, 'Let's help this girl?'"
It's very unusual for stars to be this open about their personal lives but Demi has always been an exception. This isn't the first time the singer has been open about her struggles with drug and alcohol addiction. 
Just a month before her overdose Demi released "Sober" in which she revealed she relapsed after six years of sobriety.
People in the spotlight go through the same tragedies we do. We often forget the people we idolize are human, too.
About the Contributors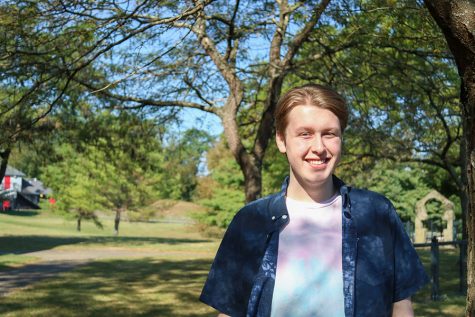 Anthony Mondelli, Chief Copy Editor
My name is Anthony Mondelli, this is my second year on the Lamplighter staff. I wouldn't want to spend my senior year any other way.

This year I'm...