Must Read Summer Books
Regardless if you like doing the summer reading assignments or not, everyone should read–It just takes the right book.
Whether you're a social person or not, free time is guaranteed during summer break. One of the best ways to make use of that time and keep your brain on its toes is to read. Here are 7 high-quality books everyone must read in summer 2019:
Dan Brown's realistic fiction novel is based in the National Security Agency and is revolved around their most top secret monument: an unstoppable machine dedicated to codebreaking. That is until it receives a code it can't crack. Then, the NSA's head cryptographer (Susan Fletcher) is brought in and her findings are nuclear. The NSA is being held hostage by a code that, if released, will destroy the entire U.S. intelligence system. It's a race between time and Susan, that Brown doesn't give up on until the final page has been turned.
Ready Player One is a futuristic novel, turned into an exceedingly successful motion picture back in 2018. The story follows Wade Watts, a normal teenager who practically lives in the OASIS, a virtual reality that is used for school, gambling, gaming, and anything else a person could do in real life. The creator of the OASIS then dies, leaving an easter egg hunt with his fortune at the end. Watts encounters many struggles through the 80s pop culture-themed search and is devoted to saving the OASIS and finding the fortune with the help of a few trusted friends.
This Pulitzer Prize winning novel follows the path of a brilliant German boy and a blind French girl, both trying to survive World War II in France. Werner Pfennig is an orphan boy who lives in a children's home with his sister and several other children. He soon comes upon a radio and is dedicated to learning everything about it. This sparks the eye of the German enlistment office. Meanwhile, Marie-Laure lives in France near the Museum of Natural History where her father is employed. Once the war is started and she has fully lost her sight, her father is given an invaluable stone to protect and deliver to one person only. Things don't go the way they planned and against all odds Werner and Marie-Laure are left to find the good in people from the other side of the world.
Sam is a normal kid, with a normal burger-flipping job, who leads a normal life. Until a friendly joke turns deadly, and Sam is left to face Douglass, a not-so-nice necromancer that sees something in Sam that no one else does. He soon finds out Sam is a "gifted" one himself and gives the teen one week to decide: join with him or die. This book is humorous, scary, and an all-around goldmine for a mixed emotions novel.
5. Wonder by R. J. Palacio 
August Pullman has been homeschooled his entire life, but now it's time to start school at Beecher Prep for his 5th-grade year. Auggie just wants to be treated like a normal kid, but it's not that simple because he looks a little different. Wonder demonstrates the ups and downs of Auggie's first year at school and will take the reader's emotions on a wild roller coaster ride. This #1 New York Bestseller has been read by elementary school students and included in the required curriculum for college classes.
In this first installment of the Kingkiller Chronicles, a fantasy world is sprung to life. Kote is a young barkeeper wise beyond his years, living in a small town in the middle of nowhere, and not much is thought of him. That is until The Chronicler comes into town and asks him to tell his story so that it can be properly documented because he is not Kote the Barkeep. He is Kvothe the Bloodless. Rothfuss takes the reader on a wild ride in this novel and follows the story of Kvothe the Bloodless from boyhood into the University, and leading into the second installment of the Kingkiller Chronicles, A Wise Man's Fear.
In her heartbreaking memoir, Walls goes back and dredges up her deepest and darkest memories from her childhood. Beginning at her first memories, the author describes her family's drastic change from moving place to place when money was owed, to living in small mining towns where there wasn't any money to begin with. She tells about occurrences that used to happen often when her dad ran out of drinking money and then shares how she used what she learned from her family and escaped from that life. Walls demonstrates a great amount of courage and faith in this novel and shows how strength should be used in the home, instead of how she experienced it.
These reads are all enjoyable whether you're in the mood for something funny, sad, or even scary. All it takes is the right book and anyone can become a reader, including you.
About the Contributors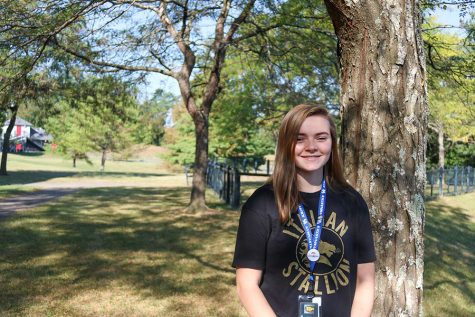 Teagan Garrison, Staff Reporter
I'm Teagan Garrison and I have been on Lamplighter for two years. I have been the Torch Podcast Editor for most of my time on staff, and can't wait to...