BTS' LOVE YOURSELF: Speak Yourself Tour
The "Princes of Pop" are back at it again with their sold-out world tour.
Prior to the kick-off of their world tour on May 4 at the Rose Bowl stadium in Los Angeles, fans otherwise known as Adorable Representative MC of Youth (ARMY), awaited the arrival of Korean powerhouse BTS.
Originating from Seoul, these seven "boys with love" (RM, Jin, Suga, J-Hope, Jimin, V and Jungkook) have built a strong following all over the world.
In addition to the parasocial family-like bond (in which fans can feel close to celebrities without personally knowing them) between the septet and their fans, what makes the relationship between BTS and ARMY even more special is the impeccable diversity of the fandom.
Varying in gender, age, race, sexual orientation and nationalities, BTS has become known for their diverse fans, and proving that no matter what you look like, no matter where you come from or believe, we are all the same.
As freelance journalist of the Chicago Sun Times, Mark Braboy, put it on Twitter: "I've never seen a major stadium show that diverse in my little life."
On March 1 all venues including the Rose Bowl, Soldier Field and Wembley Stadium sold out within 90 minutes of release. It is estimated that "Speak Yourself" has raised over $71,698,172 excluding merchandise sales and additional tour dates.
Despite how intimidating the numbers sound, tickets and merchandise are affordable.
During the "Speak Yourself" tour the South Korean boy band are to perform a 24-song set-list with many derived from their No. 1 album, Map of the Soul: Persona.
Fan favorites like "Mic Drop (ft. Steve Aoki)," "Idol," "Fake Love," and a compilation of their older popular hits will also be included.
As expected, the concert will also feature a spectacular stage production and visuals, including inflatable slides, holograms, and fireworks. At one point, youngest member Jungkook even zip-lines over the audience during his solo titled "Euphoria."
However while that is all good and fun,  do remember to bring A LOT of money for refreshments and merchandise. T-shirts, bags, premium photos, flags, and of course the legendary Army Bomb (BTS' official lightstick) will be available for purchase around the venues along with other accessories.
There will also be a BTS Pop-up shop located near the venues where fans can collect limited-edition merchandise and take photos with various abstract art and poster paintings of the boys.
With their impeccable military-synchronized choreography, astonishing stage presence, angelic vocals and their loving messages promoting mental health awareness, LGBTQ+ rights, race equality and self love to name a few are really what sets BTS above and beyond other artists in the music industry.
In fact, the boys themselves teamed up with the United Nations Children's Fund (UNICEF) for their LOVE MYSELF campaign to combat violence against children and teens around the world.
If you have been interested in checking out K-Pop or BTS specifically I highly recommend tagging along with a friend who is attending one of the two and a half hour length concerts, but if you can't make it this year, then by all means check out their music available on YouTube, Spotify, and other audio streaming platforms.
About the Contributors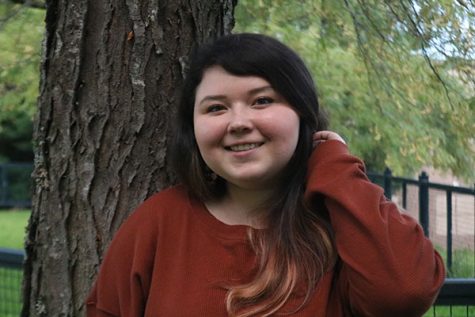 Emily Hacker, Maestro Leader
Hi! Im Emily and I am PLD Lamplighter's Maestro leader and comic artist. I manage our four broadcast teams who weekly film segments for WPLD. I also manage...