Anthony's Top Five Summer Starbucks Drinks
There's nothing better than a classic drink from Starbucks to get you through the day.
If you know me, then you know how crazy and picky I can be when it comes to Starbucks. If you don't, you're about to find out.
Try these drinks ASAP. Trust me.
S'mores Frappuccino
Summer is fast approaching which entitles swimming, late nights and most importantly campfires, and what comes with campfires? S'mores of course. This limited time summer style frappuccino blends all the flavors of a classic summer treat together starting with marshmallow infused whipped cream, chocolate sauce, a blend of vanilla, coffee, milk, and ice topped with more marshmallow whipped cream and graham cracker crumbs. 
Java Chip Frappuccino
There's nothing better than something classic, and that's exactly what this frappuccino is with a delicious blend of chocolate chips, coffee, milk, and ice, topped with amazing whipped cream and mocha drizzle. This is definitely one of my favorites as brings together so many classic flavors.
Iced Blonde Vanilla Latte
Sometimes basic is better. This drink is perfect when you're wanting something will a little less sugar but a stronger espresso flavor. This classic latte takes Starbucks' new sweet blonde espresso, milk, ice, and vanilla syrup to create a delicious twist on a beloved classic.
Mango Dragonfruit Refresher
When you're in the mood for Starbucks but don't want coffee, this drink is definitely the way to go. This tropical inspired drink brings together mango and dragonfruit flavors together to create a refreshing fruity drink, and it even has real pieces of dragonfruit mixed in.
Iced Peppermint Mocha
Now on to my favorite drink on the entire menu. The very first drink I ever got from Starbucks: the Peppermint Mocha. While technically this drink is only available during the holiday season, there is a way around it. Start with a basic Iced Caffe Mocha (espresso, bittersweet mocha sauce, milk, and ice topped with whipped cream). Then all you have to do is tell the barista to add six pumps of peppermint syrup to turn this favorite winter treat into a summer one.
Enjoy!
About the Contributors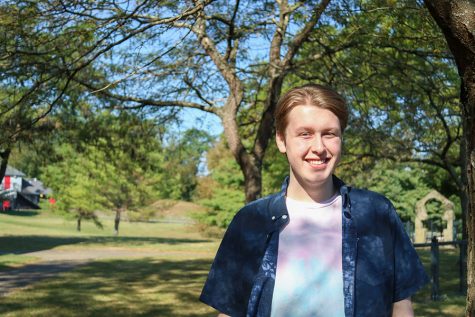 Anthony Mondelli, Chief Copy Editor
My name is Anthony Mondelli, this is my second year on the Lamplighter staff. I wouldn't want to spend my senior year any other way.

This year I'm...