A Promise for the New Year
New Year's Eve is a day when people all over the world promise to make a change for themselves when welcoming the new year. One of these people, Park Jimin of the popular South Korean boy band BTS, released his first single, "약속," which translates into "Promise."
Growing up in the Geumsa-dong district, Busan, South Korea, Jimin fell in love with music and dance. Prior to becoming a trainee, Jimin studied contemporary dance at the Busan High School of Arts and was a top student in the modern dance department.
After a teacher suggested he audition with an entertainment company, it led him to Big Hit Entertainment where he was chosen along with six other trainees to become the sensation that is BTS. Now apart of this ever famous ensemble, Jimin's role within the group is a lead vocalist and dancer.
Jimin teased the possibility of releasing his own self-composed song for a long time, inspired by the solo albums produced by his fellow band members Suga, J-Hope and RM. However, it is also known that he has been in a constant struggle with his self-esteem; which could have contributed to the timeliness of the release along with the band's busy schedule.
"I sit alone, slumped down and I break myself down with these thoughts you probably don't even know when you started hurting me. I want you to be your light, baby. You should be your light," Jimin said in the first verse.
When analyzing these lyrics, the purpose of the song is obvious: no matter how lonely and hurt we each feel in ourselves, no matter how abandoned we all feel, we must promise to never abandon ourselves. We must promise that will never throw ourselves away and to remember that we will be alright despite the darkness in our life. I believe this was the true meaning Jimin wanted to express. To promise us that we are not alone.
He further discusses the importance of this in his letter to himself from BTS' eighth episode of their travel show Bon Voyage in Malta, Europe, which was filmed around when Jimin wrote "Promise."
"It's never easy to be happy with everything. I'm sure I should know, but I really hope I'm happy. I want to do the things I want to do, and I want to show things when I can. But I need to take care of myself," he said.
I also think he wrote this as a promise to his band members as well. This is due to the shocking news that BTS almost decided to disband at the beginning of 2018 due to feeling overwhelmed and self-conscious of their new found fame, as said by eldest member Jin at the 2018 MAMA awards this past December.
I believe "Promise" was a way for him to promise to himself and to the rest of his bandmates that they each have to keep going despite the many obstacles that might come their way and that instead of hiding away from who they are, in fear of what the public would say, that they should embrace themselves, flaws and all, because only then will they be truly happy.
Graciously, Jimin held to his word with "Promise."
About the Contributors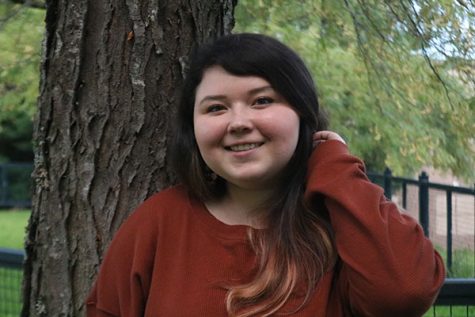 Emily Hacker, Maestro Leader
Hi! Im Emily and I am PLD Lamplighter's Maestro leader and comic artist. I manage our four broadcast teams who weekly film segments for WPLD. I also manage...