Grande Shares Lessons in Love in New Single
"thank you, next" is about the value of Grande's past relationships
Ariana Grande's new single "thank u, next" was released Nov. 3, 2018. The song talks about the lessons she has learned from ex-boyfriends Big Sean, Ricky Alvarez, Pete Davidson and Mac Miller, who passed away in September 2018.
"Thought I'd end up with Sean, but he wasn't a match. Wrote some songs about Ricky, now I  listen and laugh. Even almost got married, for Pete, I'm so thankful. Wish I could say thank you to Malcolm cause he was an angel," Grande said in her song.
Grande's lyrics show that all her relationships have taught her how to feel love, pain , and patience. While she is thankful for what her exes have done for her, it appears that she's moved on learned something from each relationship.
Many say she bounces from relationship to relationship too quickly, so Grande is going to spend more time focusing on herself as displayed in the lyric: "plus, I met someone else, we havin' better discussions. I know they say I move on too fast, but this one gon' last, 'cause her name is Ari."
Ricky Alvarez, Pete Davidson, and Big Sean had different responses to the song.
Alvarez responded to Grande's new song by posting a video on his Instagram story listening to song and as the line mentioning Alvarez plays the camera zooms in on himself.
Davidson performed on Saturday Night Live minutes after Grande's single was released. Davidson had addressed their breakup on SNL on Nov. 3, 2018, by pretending to propose to Maggie Rogers, that week's guest musician. Grande responded to this with a series of tweets without mentioning Davidson.
"For somebody who claims to hate relevancy u sure love clinging to it huh," Grande wrote. Before deleting her tweets Grande also wrote, "thank u, next" and "k, that's the last time we do that."
Davidson then addressed the joke later on the show, clearing the air.
"She's a wonderful, strong person, and I genuinely wish her all the happiness in the world," Davidson said.
Although there is no public response from Big Sean about "thank u, next," Grande did mention him on Twitter. Grande responded to a fan's tweet about Sean and Alvarez's reactions to the song. She revealed that both Big Sean and Ricky Alvarez had both heard "thank u, next" before it was released.
Grande performed her new song alongside Tayla Parx and Victoria Monet on the Ellen Show on Nov. 7.
Grande's background scene portrays a wedding which is meant to be symbolic of the movie The First Wives Club, a 1996 film about former college friends who realize their ex-husbands have taken advantage of all of them.
The single, "thank u, next," has established a record on Spotify for most single streams of a female artist's song. Grande acquired 8.2 million streams on the streaming app on Nov. 5 and 8.4 million on Nov. 6.
The new single has also become favored among Dunbar students.
"It's a really beautiful song about finding value in letting go and growing as an individual," sophomore Annika Koch said.
About the Contributors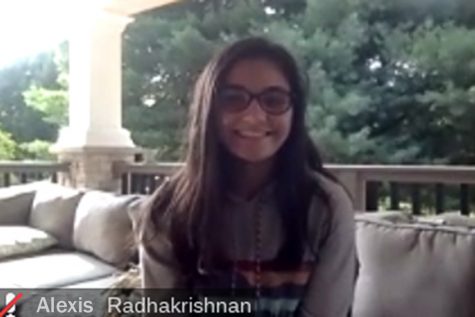 Alexis Radhakrishnan, Staff Reporter
My name is Alexis Radhakrishnan. I am a senior at Dunbar and this is my third year on the Lamplighter staff. I am excited to contribute to the program...