Fall Out Boy Finally Releases New Album
Fall Out Boy is an American rock band from Wilmette, IL. After a long-awaited hiatus, the band finally returned with their seventh studio release, M A N I A, an electro-pop twist to the band's more rock roots. Originally, M A N I A was scheduled for a release on Sept. 15 of last year. However, on Aug. 3, Patrick Stump announced that the record would be pushed back until January 19, 2018.
"The album just really isn't ready and it felt very rushed," Stump said on Twitter. "I'm never going to put a record out I genuinely don't believe is at least as strong or valid as the one that came before it and in order to do that we need a little bit more time to properly and carefully record solid performances."
To loyal fans, M A N I A is quite significant. This is initially obvious by the album's cover art. Fall Out Boy's previous discography have all had a distinct red or blue color pattern. M A N I A breaks this cycle by presenting itself as something unique. It's both a literal and symbolic mix of all the albums that have come before it, making it the color intermediate between red and blue.
The M A N I A Album is as follows:
Young and Menace

Champion

Stay Frosty Royal Milk Tea

HOLD ME TIGHT OR DONT

The Last of the Real Ones

Wilson (Expensive Mistakes)

Church

Heaven's Gate

Sunshine Riptide

Bishop's Knife Trick
M A N I A starts out with a darker and more intricate song called Young and Menace. This track sounds far different from their original sound, relying more on electronic influences rather than  their live instruments.
According to bassist Pete Wentz, it is one of the weirdest songs the band has ever made. In an interview on the Zach Sang Show, he said "It's about the idea of being an outsider… This is how I remembered growing up." While it may not sound like the boys at first, "Young and Menace" gives us a new perspective of themselves and their music.
"Champion" has got to be one of my favorites on the album and that's not just because of its remixed version, featuring RM of BTS. It is one of those catchy songs that you can dance and sing along to and it is closer to what the Chicagoan chart-toppers are known for: alternative pop with powerful lyrics.
"The Last of the Real Ones" is a frantic piano hook mixed with a slew of celestial imagery and the trademark Fall Out Boy confessional lyrics that stands out from the rest of the album's experimental undertones and harkens back to the band's "Folie à Deux" days. This track also expresses what the band has said to be "that kind of love you feel for someone because of their glitches, not in spite of them, where you feel the vacuum of them everywhere and your heart just feels like TNT, quicksand, and oblivion all at once," according to The Rolling Stone.
"Wilson (Expensive Mistakes)" is the most relatable song on the album, recalling how people change in an effort to fit in and how, while everyone else may love you, the one you truly care about doesn't. 
As the last track on M A N I A, "Bishop's Knife Trick" is my personal favorite on the album. This song draws the listener in with its mellow, mid-tempo ballad and powerful lyrics, talking about Stump's addiction to drugs and him getting over them. He sings about wanting to take them one last time. He sings "these are the last blues we're ever gonna have… let's see how deep we get" referring to how affected he will get by the drugs.
M A N I A gave fans a taste of the new and experimental side of Fall Out Boy, while still maintaining their branded sound.
About the Contributors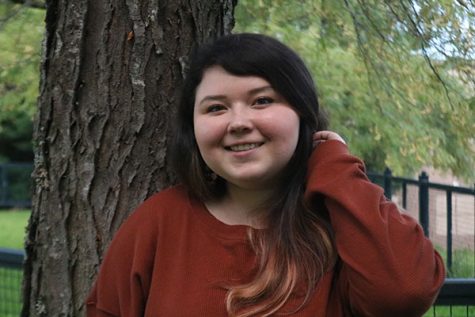 Emily Hacker, Maestro Leader
Hi! Im Emily and I am PLD Lamplighter's Maestro leader and comic artist. I manage our four broadcast teams who weekly film segments for WPLD. I also manage...