Remembering Jonghyun
Poet | Artist is the second and final studio album by South Korean singer-songwriter JONGHYUN, released posthumously on January 23 by SM Entertainment.
It was difficult to review Kim Jonghyun's posthumous album Poet | Artist without shedding a few tears; not only because I was a fan of his, but also because of its bittersweet testament to his legacy.
For those unfamiliar with Jonghyun, he was a successful singer-songwriter and lead vocalist of the K-Pop boy band, SHINee, until he committed suicide on Dec. 18, 2017.
It was announced that he would return with a solo album in January 2018 when promoting his Inspired concerts. SM Entertainment announced that the album would release posthumously on Jan. 23 along with a promotional music video that had been completed before his death.
Poet| Artist is one of many examples of Jonghyun's superior musical artistry, notably due to his ingenious lyrics and his ability to switch between a variety of genres. For example, this album alone encompasses a range of styles from R&B, future bass, electronic pop and classical-acoustic ballads.
The 11-track album consists of the following songs…:
        

빛이

나

(Shinin')

        

환상통

(Only One You Need)

        

와플

(

#Hashtag

)

        

기름때

(Grease)

        

Take The Dive

        

사람

구경

중

(Sightseeing)

        

Rewind

        

하루만이라도

(Just for a day)

        

어떤

기분이

들까

(I'm So Curious)

        

Sentimental

        

우린

봄이

오기

전에

(Before Our Spring)
Each song contains meaningful messages and stories about society, and life and love.
The album starts off with the tropical-trap "Shinin'," the lead track that speaks about praising his lover. It also seems to hint about his love towards fans due to the strong bond developed between them during his career. Lyrics like "Getting to know you is so amazing," and "When your eyes are on me, I shine more," are poignant. 
In "Sightseeing," Jonghyun detaches himself from the showbiz life and describes the hustles of everyday life from an outside perspective. He points out that people are so focused on their mobile devices that they forget to pay attention to what's around them.
Usually, when people use the "everyone's too busy to enjoy life" trope, there's a negative connotation to it. But Jong's approach is more curious. He wants to know what's so important, and this makes this song even more intriguing.
In "#HASHTAG" he compares the shape of the hashtag to a waffle, and the act of being the target of groundless rumors to devouring those waffles. While this seems innocent at first, he then twists a message to social media haters by flatly reading out their comments as if he doesn't care.
With its upbeat rhythm, one would think he is casually disregarding the hate, but after acknowledging the fact that Jonghyun was suffering from depression—the song doesn't have the same tone as it did before.
Jonghyun rounded out the album with "Before Our Spring." Out of all the amazing songs in Poet | Artist, this one really caught my attention with its captivating sound and beautiful lyrics.
While the song itself assures fans that spring will come no matter how cold winter is, I myself felt as though he was saying goodbye—as if he was telling us to not worry, that once all the bad things go away, he will have peace too: "Don't worry about what to do/ when I forget my tears and my sadness/ Spring will come to me too."
Jonghyun had always been passionate about his music, putting everything he had into each masterpiece he made, and although he cannot be here to see the amount of love and support he has been given, our star who once shined so brightly on stage will forever shine in the sky.
"Life is a continuation of meetings and farewells. Because of that, I believe that we grow. Immediately, you will regret it, you will feel sad and you will cry but, we will meet again."
About the Contributors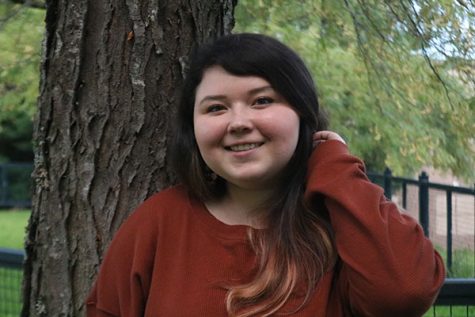 Emily Hacker, Maestro Leader
Hi! Im Emily and I am PLD Lamplighter's Maestro leader and comic artist. I manage our four broadcast teams who weekly film segments for WPLD. I also manage...