Andy Beshear Protests
The "patriot rally" at the Capitol happened only days before Kentucky experienced one of their own. On Saturday the 9th of this year only three days after the Capitol riots, rioters from Kentucky led one of their own against Governor Andy Beshear. Beshear took to Twitter to state that "Three days after domestic terrorists attacked our U.S. Capitol, there was a militia rally in Frankfort. They brought zip ties. We will not be intimidated. We will not be bullied. America is counting on the real patriots. Those who condemn hate and terror when they see it."  
Just shortly after the riots at The Capitol, Kentucky had its own uprising targeting Governor Andy Beshear. This "rally" happened right outside our own state courthouse. This however was not a surprise rally, it had been planned for weeks before it happened. 
"A photo advertising the event, posted in the "United Kentucky" Facebook group on Jan. 2, said it would be "the biggest patriot rally the state of Kentucky has ever seen."' USA Today reports. https://www.usatoday.com/story/news/nation/2021/01/09/kentucky-patriot-rally-armed-protesters-capitol/6610891002/ 
The riot was around 100 people, most heavily armed. This occurred on a day both general assemblies were in session. The event took around 3 hours until it was dispersed with little action, but a large motive. 
Andy Beshear has been open about his position on the "protests" at the Capitol, calling them "Domestic Terrorists". Beshear Along with other governors around the states believe that the protests at the Capitol,"'This is an embarrassment to our country':Ohio Gov. DeWine condemns Capitol violence" https://www.cincinnati.com/story/news/2021/01/06/kentucky-gov-andy-beshear-called-u-s-capitol-rioters-domestic-terrorists/6570460002/Beshear was not one to shy away from speaking about the protests. Being a Democrat in a mostly red state, including being red in the 2020 election. 
Kentucky is a state that has been hit hard during the COVID-19 pandemic. The total cases surpassed 300,000 and over 3,000  deaths. https://chfs.ky.gov/agencies/dph/covid19/COVID19DailyReport.pdf  Governor Andy Beshear has been adamant on his stance on how to protect Kentucky during this time. With mandated lockdowns and a mask mandate for businesses, Beshear was not one to ignore the severe pandemic gripping the nation. 
About the Contributors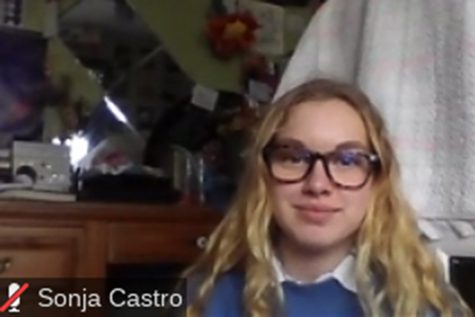 Sonja Castro, Staff Reporter
Hello, My name is Sonja Castro. I am a sophomore at Dunbar  and this is my first year with Lamplighter, and I am really excited to get started. I am a...