Charli D'Amelio and her rise to fame
Charli and how her life has changed since becoming famous.
Charli D'Amelio, a 15 year old girl from Connecticut has gained over 85 million followers on tik tok by posting just one viral video back in July 2019. In just over a few months, Charli has become one of the top influencers in the world. Charli has gained most of her popularity through her dancing videos, having millions of likes per video. As she progressed into her fame, she started making more casual videos like vlogs, and funny moments in her life.
Adapting to her ever growing fan base wasn't easy though, as she is only 15  and struggles with the classic teen struggles.
In an interview with toofab, Charli opens up about some struggles she's encountered with gaining populairty;  "STOP TALKING ABOUT MY BODY," she wrote. "It's not your place to tell me if I'm losing weight or gaining weight." This was after thousands of comments telling her that she looked like she has gained some weight around her stomach and body shaming. She decided to take matters to her own hands and went on twitter to handle it. Although she is only 15, the way she has handled the backlash and hate is seen as very mature to her fans. In another interview with 17 magazine, she talks about what it's really like being an influencer at her age.  "If you have followers, you're not considered a person. You're just a thing that people get to judge and objectify and call names and bully," she says.
Having tik tok myself, I have seen firsthand the negative comments and blatant bullying from anonymous users online. People believe that if you don't know who they are, they can hurt anyone they want by leaving a hurtful comment. Besides Charli having to deal with negative comments, she has become an inspiration to girls all over the world. Many kids say they look up to her and that they make her day with the content she provides. Currently she has over 88 million fans who constantly support her, and love her. 
With being so popular, Charli has earned sponsorships from brands like Dunkin Donuts, American Eagle, and even been in a super bowl commercial. Needless to say, being a rising star on Tik Tok has its ups and downs but Charli has adopted the role and has handled it amazingly. Along with how Charli has handled the role of an influencer, her parents have also become quite the influencers.
Mark (Charli D' Amelio's dad), and Hiedi ( Mom), have been a constant source of support for her throughout her tiktok journey. 
"They would ask us, even as high schoolers, 'Is this okay to post? What do you think about this?' They would always come to us and we always respected that they would do that, so we work together. We let them have their time and freedom to figure it out but we are not far away." 
This quote demonstrates how the whole D'Amelio family focuses their time on being cooperative and supportive of each other. They also have joined sponsorships together and post videos together. Now ask yourself this question; do you wanna be a tiktok star?
About the Contributors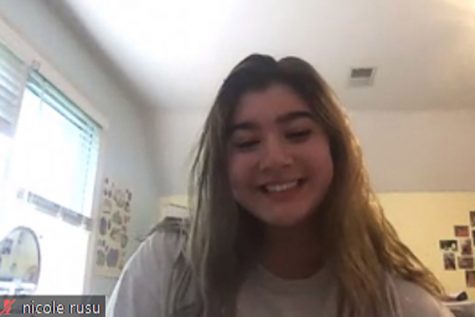 Nicole Rusu, Staff Reporter
Hi! I am Nicole and I am a junior at Dunbar. I spent last year just learning the ropes on how to produce the best content in Lamplighter, and I immediately...