Dear Abby: Sliding into DMs, Cuffing Season, Relationships, and Netflix Recommendations
In this first issue of Lamplighter's Dear Abby column, we answer these important questions.
Dear Abby,
How do you go about sliding into a girls' DM's? – Anonymous
Dear Anonymous,
Sliding into a girls DM's can be tricky, but you have to go about it light heartedly. If you are going to slide right in, you have to be aware that a lot of girls will get annoyed and shut you down if you don't do it right. For example, never just put "#?" or "hey your hot hmu". From the perspective of a girl, that can be demeaning. Here are a few steps to do it the correct way:
Step 1: Find the right girl. This can be a girl you are physically attracted to, want to get to know better, or a close friend that you want to take your relationship to the next level with.
Step 2: Send her a greeting message. Such as, "Hey! I think you're really pretty and I want to get to know you." Complimenting her will get you an easy A.
Step 3: Keep the conversation going. Don't just ask for her number and never talk to her again. Start a conversation and keep it going. Be creative with what you talk about! Make the conversation interesting from the beginning so that she won't lose interest in you.
Keep all of this in mind and you will hopefully have a girlfriend by the time homecoming comes around. Best of luck!
Xoxo,
Abby
---
Dear Abby,
How do I go about cuffing a girl this cuffing season? -Anonymous
Dear Anonymous,
With the leaves changing and the air getting colder, everyone is looking for that special someone to cuddle up and enjoy the holidays with. I'm assuming you already have the girl in mind that you want to spend your time with. The next step to getting her to be yours, AKA "cuffing" her, is to charm her, make sure she feels the same way, and then pop the question. This will ensure a long and cozy winter.
Charming a girl is the key part of getting her to like you. This does not mean you have to be doing big, romantic, expensive gestures every day. It doesn't even mean you have to be spending any money on her at all. Just make her feel special. Compliment her, make her laugh, make her believe that you care about what she thinks and how she feels. It's the little things that count.
After you've charmed her, you've gotta make sure she feels the same way. There's nothing more annoying than someone who keeps trying after being shot down multiple times. If this is you, I applaud you for your consistency but it's time to step back. There's not always a reason as to why the girl doesn't like you back; that's just how life is sometimes. If you're not sure how she's feeling, it never hurts to ask. The worst case scenario is she doesn't like you. Will you be embarrassed? Probably. But is the humiliation worth knowing that you're wasting your time with someone you won't be with? Definitely. Just ask!
Now, if you've charmed her and have gotten her to like you back, the last step is to pop the question! In middle school it was a big thing to get your friends to body paint and get everyone involved in asking a girl out; but we are in high school now. Don't worry about making it a show. Just ask her! If she really likes you she will appreciate the simplicity and if she throws a fit about you not making it a big scene, she may not be the girl for you. Best of luck when it comes down to it and happy cuffing season!
Xoxo,
Abby
---
Dear Abby,
Recently I've found myself in a real pickle. My "best friend" of 3 years just told me that she has been sneaking around behind my back with my Ex. At first when she told me I was really, really mad and people thought I was over reacting. I went off on him and then I posted a picture on Instagram saying "I just cut off some fake friends so Hit me up if you wanna chill". My first question is do you think I was over reacting? My second question is what should I do? Should I still be friends with her? – Anonymous
Dear Anonymous,
Having a friend go behind your back can be an awful situation. Best friends are people you feel you can trust and when they break that it can be really hard to reestablish that. To answer your questions, I understand being heated in the moment can make you do or say things you normally would not. With that said, I do not think you were overreacting. You did what any angry teenager would do. I think you need to have a very real, very open and very personal conversation with her to navigate your friendship and where this has left you.
Xoxo,
Abby
---
Dear Abby,
What shows do you recommend on Netflix? -Anonymous
Dear Anonymous,
There are a lot of great shows on Netflix and based on your preferences you may not like the same shows as me; but these, in my opinion, are great shows: Grey's Anatomy, One Tree Hill, Gossip Girl, The Office, Parks and Rec, Gilmore Girls, Private Practice, and New Girl.
If you like shows with a lot of love and drama I highly recommend Grey's Anatomy, One Tree Hill, Gossip Girl, Gilmore Girls or Private Practice. Private Practice is a spin off Grey's Anatomy that focuses more on one of the character's lives in Grey's Anatomy. Both shows are great. You get really involved in the characters' lives and relationships. One Tree Hill and Gossip Girl are both shows that are mainly focused on high school characters. These shows will make you wish that you lived the characters' lives. Lastly, Gilmore Girls is centered around a teen mom who raises her daughter in a small town. Yes, it sounds very cliché but it's a more realistic show. There's less drama but it's heart warming.
Now, if you're a person who doesn't like mushy gushy drama, some funnier shows are The Office, Parks and Rec and New Girl. A lot of people either love The Office and hate Parks and Rec or vise versa, but I really can't choose which one I love more. Both shows made me laugh more than any other show ever has but they also have the capability of drawing you in and you connect with the characters. New Girl is a show that focuses on the life of a quirky, innocent girl named Jess who lives with four other boys. Every episode makes you fall in love with her a little more. All of these shows are a must watch because everyone needs a little humor in their lives.
If you're a person who doesn't like drama or humor, I'm not going to be much help for you; but I do have some suggestions. Some dark and intense shows that have been highly praised are Dexter, Stranger Things and The Walking Dead. Since I haven't seen any of these shows I don't have much to tell you about them; but I've heard nothing but good reviews.
I hope this helped and you find a show that you love!
Xoxo,
Abby
About the Contributors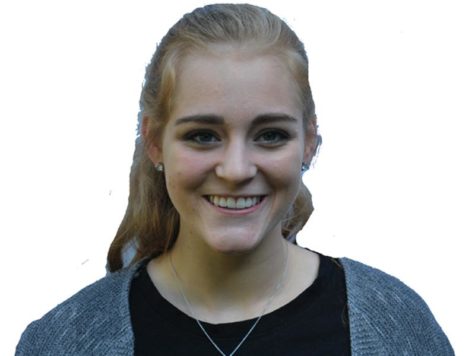 Maddie Carter, Broadcast Editor
"Life is not a spectator sport"