How COVID Has Impacted International Families
With travel restrictions all over the globe, students with family overseas have experienced more separation this year than in the past.
It was only a few months ago when my mom told us that my grandmother, her mother, was sick.
Very sick.
I knew my mom wanted to go back to China as quickly as possible, but she was hesitant about when she should go, or whether she should even head back. With only a few vacation days and China implementing 14-day quarantines for anyone traveling from the U.S., how long would she even be able to visit and take care of her mother?
At the time, I felt more concerned about my mom's mental health than what was actually going on with my grandmother. To be honest, I had never known her well. The only memory I had of her was when I was about four years old and stubbornly wanted to stick my arms out of my blanket when I slept, while she stubbornly refused and kept covering my arms with the blanket. 
The news from my aunts only got worse. It started with grandmother refusing to eat, then being unable to get out of bed and refusing to go to the hospital. I knew my grandmother was superstitious, or maybe it was plain neophobia, but she refused to trust anything "new" or out of the ordinary, including modern medicine. 
A doctor was finally able to visit her and said that if she still refused treatment, her condition would quickly decline and she might even pass away in three or four months. That was when my mom started making plans to travel back.
However, a few days later, my grandmother passed away. My mom never got the chance to travel back and see her again, something she tells me that she'll always regret. Watching my mom grieve for those few months was one of the worst experiences of my life, especially with the knowledge that she wasn't even able to visit one last time after having not traveled to China for so long.
Sadly, my family isn't the only family that has experienced this. The pandemic has created difficulties for many international families.
"It's becoming harder to meet family members; rather, you lose them instead," an anonymous senior with family in Asia said. 
"My family lives nowhere near me so we've always needed to travel by plane to see them," senior Angela Wang said. "Usually, I can at least see some of them once a year, but now that that chance is basically gone, I've felt even lonelier than usual. My parents and I are also constantly worried about them because they live in areas that are heavily populated and the newer strains are more widespread."
With vaccines being distributed, there's hope that international families will be able to travel soon and situations like these can be avoided in the future.
About the Contributors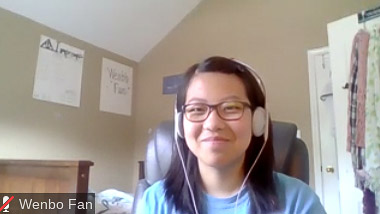 Wenbo Fan, Staff Reporter
My name is Wenbo Fan and this is my fourth year on Lamplighter. Since starting Lamplighter freshman year, I've learned that journalism can change the...