Financial Aid Rules Unfair to International Students
As high school seniors across the nation apply for federal financial aid to alleviate university costs, international students are left out.
The incredible expenses of an American college education exceed what most families can afford with the average tuition for a 4-year public institution accumulating to $30,000 per year, according to the College Board. The Higher Educational Amendments of 1972 created the first version of the Free Application for Federal Student Aid (FAFSA) with the Pell Grant to provide support for low-income families. Today, the application has grown to encompass families of higher incomes as the cost of college tuition rises.

However, even with the increased proportion of the population obtaining financial aid, a significant number of students are still left out—international students.
International students include people who have gone to high school outside of the United States as well as those who have attended school in the United States but who are not U.S. citizens or permanent residents.
I fall into the second category.

I was born in Hyderabad, India, to an extended family of over 50 cousins—a majority of whom had decided to move to the United States, so my parents did as well. However, this was not easy. My parents studied countless hours for American medical exams in order to keep practicing in the states, and they worked even harder applying for visas, and traveling from one international office to another.

From the moment of my arrival in the states, I strove to rise to the level of excellence.
As an "international student," I represented my school at various state competitions and brought new ideas to an abundance of clubs and activities. In the midst of all of this, I still remained a conscientious and hardworking student in the classroom, maintaining a high GPA.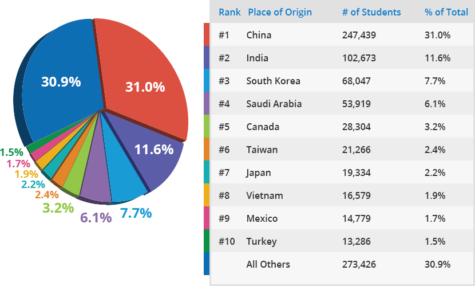 Entering high school, my intrinsic motivation transitioned into recognized excellence, not just for me, but for my school. I am a graduate of the Kentucky Governor's School for the Arts and an acceptant of the Kentucky Governor's Scholars Program.
I stress these two accomplishments because, for these, the government of Kentucky sponsors the full cost of the program regardless of your citizenship status.
But when it comes to college, the government disregards international students.

The government funds students based on their income regardless of their contributions. International students have consistently proven to be hardworking and contributing students at colleges or universities. They come to the United States with a passion to learn and succeed in some of the best institutions in the world just as I hope to do. Like many US citizens, though, they lack the income required to pay full tuition.
Even though my parents practice medicine, they work to support my extended family in India and do not necessarily intend to pay for my college education.

Many international immigrants face great conflicts to reside in the United States, and a main reason for them to do so is to receive an education. With their numerous contributions to university programs, international students deserve educational support.