Kentucky Abortion Rights Under Threat
Kentucky is set to strike down the constitutional right to abortion since there is already a trigger law in place outlawing the practice as soon as the Supreme Court rules on Roe v. Wade.
House Bill 3 was first introduced to the Kentucky legislature on Jan. 4 and passed 28-4 on Jan. 6. Two days later, it passed 65-25 and was sent to Governor Andy Beshear who vetoed this bill on Jan. 19. On March 1, the Veterans, Military Affairs, and Public Protection Committee heard House Bill 3, an omnibus bill filed by Rep. Nancy Tate, (R-Brandenburg).
The bill mandates that all patients must see a physician in person, have counseling 24 hours before the procedure and be informed that the procedure can be reversed. Physicians who provide drugs that aid abortion must also maintain hospital privileges at a nearby hospital or contact a physician before administering the drug. 
This is not the first Kentucky law regarding abortion.
A 2017 law requires doctors to complete an ultrasound, show and describe the image to the patient, and play the heartbeat of the fetus before the procedure. Women must also receive counseling 24 hours in advance of an abortion.
Lawmakers have already imposed nearly a dozen laws meant to restrict or eliminate abortion in Kentucky since 2016 after the Republican party won control of both chambers of the legislature.
But there are vocal opponents.
Representative Rachel Roberts was sworn into office on March 3, 2020, as the first female representative for House District 67 Seat (D-Cambell).
"
you would be damning a 14-year old version of me to God knows what.
— Representative Rachel Roberts
Before the vote, Rep. Roberts spoke on the House floor about her experience with sexual assault. When she was 14, Roberts was babysitting for a family friend and fell asleep on their couch, she was awakened by a grown man attacking her. She said that she was raped and beaten within an inch of her life in an environment she felt safe in. 
"I'm telling you my truth, something I've never stated publicly ever before because when you vote today, I want you to know that if you vote this through with no consideration for rape, incest, or the life of a mother, you would be damning a 14-year old version of me to God knows what," Rep. Roberts said.
According to the Guttmacher Institute, a national reproductive rights policy and research organization, Kentucky is one of 12 states with trigger laws on the books. Kentucky's trigger law, House Bill 148, was sponsored by Rep. Joe Fischer, R-Fort Thomas.
About the Contributors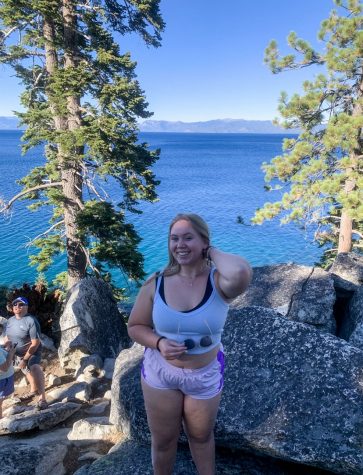 Avery Pearcy, Staff Reporter
Hi guys! My name is Avery and I'm the Chief of Photography this year. I've been on staff since my freshman year and I was the Sports Photography Editor...