PLD's National Merit Semi-Finalists
This year, Dunbar is proud to have 33 National Merit semifinalists. The National Merit scholarship program was created in 1955. It is a national competition that can result in student recognition along with academic scholarships.
To enter the program students must take the National Merit Scholarship Qualifying Test (NMSQT), more commonly known as the Preliminary SAT (PSAT). Students must score within the top 1% of high school juniors in their state. Semifinalists are chosen based on their cumulative score and will need to receive high marks in each section. Students are able to see where they stand in the NMS index on their PSAT scores from previous years.
Students must be juniors in high school when they achieve a qualifying score to enter the program and become semifinalists. Among the 1.6 million students that take the PSAT every year about 16,000 students earn a qualifying score.  
There are many different ways to be introduced to NMS program. Shashank Bhatt, for example, learned about it through friends that took the PSAT in previous years. He also was able to see the NMS index on his sophomore year PSAT score report.
Taylor Colony and Andy Du, fellow semifinalists, were also introduced to the program through friends or previous PSAT scores. Looking at previous practice PSAT score reports can be helpful in not only learning about the NMS program but also to prepare for taking the PSAT junior year.
"I prepared for the PSAT by first examining my score reports from when I took the test during sophomore year to identify what subjects and types of questions I needed to focus on.  Also I used online studying services on the college board website," Colony said.
As there are different ways to learn about the program there also many ways to study for the tests. Students find it helpful to study flash cards, complete online practice tests, and looking at mistakes made on past tests.
"I practiced for the PSAT mainly by doing practice tests, but I also went to KhanAcademy and did some of their exercises and tests," Bhatt said.
"I suggest studying weak points, which are found while taking practice tests. After finding where you struggle study those topics and spend time on the things you need to know rather than already do. There's no point in spending time on something you know you can do," Bhatt said.  
Studying is not the only way to succeed in becoming an NMS semifinalist. Time management is considered to be a skill necessary for standardized testing. Other things students may find useful is to be well rested and prepared the day of the test.  
"I advise freshman and sophomores who think they want to compete for NMS, take you practice PSAT exams each year seriously. They can help you get an idea where you are and what you need to focus on to elevate you to the level you want to be in your junior year," said Colony.
"We're all pretty familiar with the timing of the ACT, but the PSAT timing on each section is quite different, so it's important to know how you should be pacing yourself," said Olivia Tussey.
Students interested in entering the National Merit Scholarship program can begin by signing up for the PSAT at www.totalregistration.net/PSAT/181440
Dunbar National Merit semifinalists
Saif Ahmed

Katrina Baniak

Shashank Bhatt

Max Bograd

Taylor Colony

Emily Cooper

Madison Costes

Andrew Du

Rehan Ghanta

Megan Guan

Erik Han

Thomas Hulse

Kevin Jing

Caitlin Labianca

Austin Li

Angus Maske

Ian McCauley

Benjamin Mckeown

Saiprasad naidu

Helen Pang

Ashley Rowell

Rachel Seevers

Radhika Sharma

Luke Sills

Megan Slusarewicz

Tyler Stratton

Jacob Styler

Divya Sunderam

Adam Talwalker

Olivia Tussey

Drew Whitley

Stephanie Yang
About the Contributors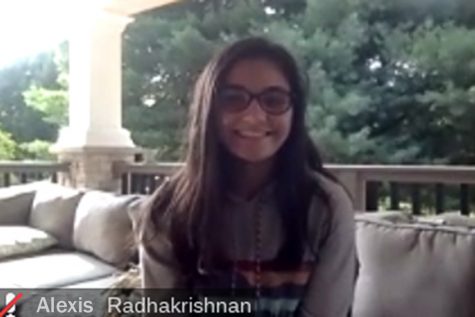 Alexis Radhakrishnan, Staff Reporter
My name is Alexis Radhakrishnan. I am a senior at Dunbar and this is my third year on the Lamplighter staff. I am excited to contribute to the program...