Lexington Women Gather on the Anniversary of the National Women's March
On the anniversary of the Women's March that took place last year, marches were held all across the country. One such march was held in downtown Lexington.
This past Saturday marked the one year anniversary of the National Women's March. Last year, over five million people across the world rallied to support women's rights. This year, over a million Americans marched for the same cause. Though there were fewer attendees, their message rang clear through powerful speeches, chants and signs.
The Kentucky National Organization for Women organized one such march in downtown Lexington. Speakers included KY Secretary of State Alison Grimes, KY State Representative Attica Scott, activist Anita Rowe Franklin, Executive Director of KDP Mary Nishmuta, Lexington City Councilwoman Angela Evans, DACA activist Noemi Lara-Rojo, Indiana and Kentucky Planned Parenthood representative Jenny Clay and Kentucky Women's League representative India Allen.
The speakers were allotted five to ten minutes and, though their speeches were brief, they were powerful nonetheless.
During her speech, Councilwoman Evans threw her papers to the ground.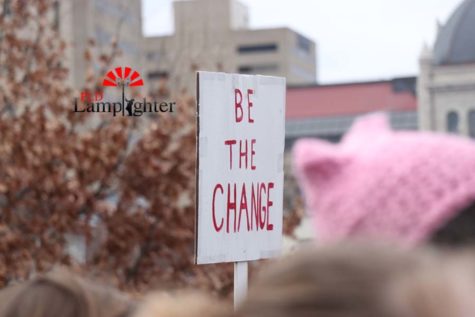 "Today, I went rogue. I planned to talk about the fear that we've seen this past year but ended up talking about how compassionate we really are as a society and we need to make sure that our laws reflect that compassion and how we truly do love each other. That's what my faith has taught me and we need to protect each other. We don't need to judge each other. And even when we don't understand someone else's issue, we still need to stand up for them," she said.
Councilwoman Evans also had some advice for young people who will be voting for their first time in the state primary elections this fall.
"Do your homework. You know, listen. I know it can sound like everybody's saying the same thing, but just kind of go with your gut. Candidates in the primary, it's a little difficult to decipher. Sometimes it does come down to who you like better, who you feel like you identify with more."
Female celebrities gave speeches at various marches across the nation. Though they all had different reasons for attending, they shared a common purpose: to take a stand for women's rights.
Actress Scarlett Johansson spoke alongside Mila Kunis in Los Angeles about her role as a mother.
"
I planned to talk about the fear that we've seen this past year but ended up talking about how compassionate we really are as a society and we need to make sure that our laws reflect that compassion and how we truly do love each other."
— Lexington City Councilwoman Angela Evans
"I want to move forward. And for me, moving forward means my daughter growing up in a world where she doesn't have to be a victim of what has cruelly become the social norm. That she doesn't have to fit into the bindings of the female condition. Time's up on the female condition," she said
Actress Viola Davis tackled sexual assault and trafficking from the perspective of a woman of color.
"1 in 5 women will be sexually assaulted or raped before she reaches the age of 18. If you're a woman of color and you're raped before you reach the age of eighteen, you're 66% more likely to be sexually assaulted again. 70% of girls who are sex trafficked are girls of color. They're coming out of the foster care system, they're coming out of poverty. It is a billion-dollar industry," she said.
Rather than giving a speech, singer-songwriter Halsey wrote a poem about her difficult experiences as a woman, from taking her friend to a planned parenthood clinic after she was assaulted by an after-school adviser to having to perform the day she had a miscarriage to dealing with an assaultive boyfriend.
Halsey posted the video of her recitation on Twitter and, in the past two days, it has received over 132,000 shares.
"I'm truly humbled and overwhelmed by the support I've gotten in the past day. I'm comforted and saddened by all who can relate. We are in this together," she said via Twitter.
The women's movement is getting stronger and louder. Last year, the #metoo movement dominated Twitter. This year, "Times Up!" was created by over 300 women in film, television and theater and anyone from Rashida Jones and Ewan McGregor to Reese Witherspoon and Justin Timberlake could be seen wearing pins to support the movement at this year's Golden Globes.
Women in a position to do so are using their platform in order to create change for those who are silenced, women who are in poverty and who do not hold a position of influence. The year has only just begun and there is more advocacy to come. The marches were a strong start to a new year of change.
About the Contributors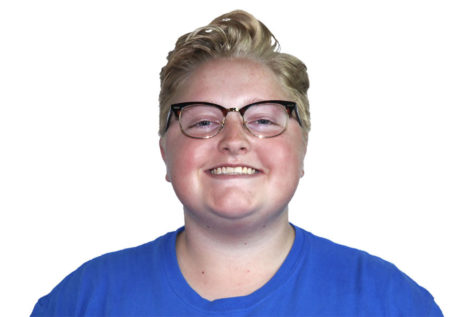 Abigail Wheatley, Editor-in-Chief
My name is Abigail Wheatley and this is my third year with PLD Lamplighter. Journalism is my love and special education is my passion. I'm fortunate enough...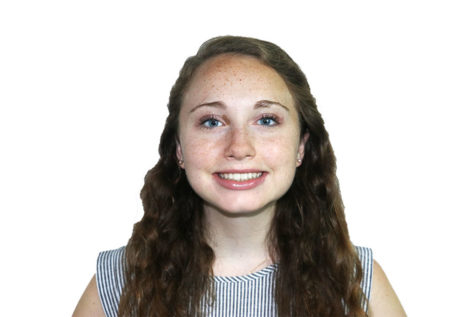 Remy Milburn, Photography Editor
Remy loves photography, coffee, and Ed Sheeran. #livelovelamplighter