NCAA Approval for High School Courses
Competing in the NCAA is the dream of many high school athletes across the country. However, those dreams can be dashed if a student's transcript contains courses that have not been approved by the NCAA. Recent controversial cases involving student athletes have caused people to question whether it is really the duty of the NCAA to be determining a student's eligibility.
The most recent case is that of Cheick Diallo, a freshman basketball player at Kansas University. Diallo was admitted to Kansas University, completed six credit hours over the summer and is enrolled as a freshman for the fall semester, but the NCAA has decided that he still may not be considered a competitive college athlete.
Diallo attended Our Savior New American, a private high school in New York. The school is currently being criticized by the NCAA Eligibility Center and is "under an extended evaluation period" to determine if students from the school should be allowed to enter in the NCAA, despite having a history of sending students to some of the top academic universities in the country including American University and Fordham University.
A similar conflict is the case of Tacko Fall, another freshman basketball player from Central Florida. After immigrating to America from Senegal, Fall transferred from high school to high school in the hopes of earning a basketball scholarship. Much like Diallo, Fall was accepted by his college and has completed credit hours. However, due to his many transfers, Fall's transcript has come under question by the NCAA.
Many are unsupportive of the NCAA's mission to approve all athletes. One such critic is ESPN college basketball analyst Jay Bilas. "The NCAA should be about administering and governing athletic competition, not anything else," Bilas said, according to the Kansas City Star. "These are accredited institutions of higher learning that evaluate and admit students as part of their core function and the NCAA has no business in that area."
Every year students spend hours trying to navigate the college application process and schools spend months deciding which students to accept. After getting through this long procedure, the last thing a student athlete wants is to be told by another organization that all that work may have been for nothing.
On the opposing side of the argument is Gerald Gurney, an assistant professor of Educational Leadership and Policy studies at the University of Oklahoma. While Gurney has been known to criticize the NCAA, he is supportive of its eligibility standards. Gurney has said in the past that universities sometimes make exceptions to the admissions process for certain athletes.
The lack of regulation can show through in the coursework of certain athletic schools. For example, last year the University of North Carolina came under scrutiny for not providing "academically sound classes" according to USA Today.
Despite the controversy of their actions, the NCAA does not seem to be budging. It does not appear that they will be retreating on the eligibility front, so students will just have to fight for their right to compete in college athletics. There is a lesson that can be learned from this: what one does in high school matters, do not expect to get by on being below average.
About the Contributors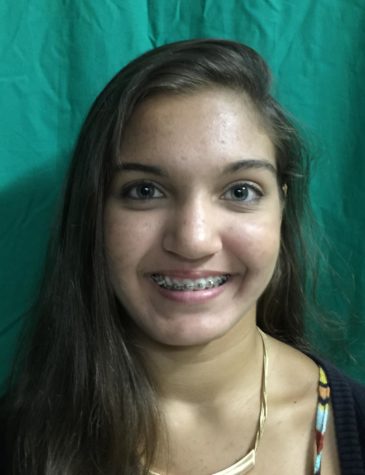 Julia Radhakrishnan, Staff Reporter
My name is Julia Radhakrishnan and I am a sophomore in MSTC. This is my first year on the Lamplighter and I am very excited to be part of such a talented...