"Now That I'm Here, My Heart Feels Alive Again…"
Congolese Dunbar student, Raphael Makombo, discusses his journey to America
Most students wear scowls of contempt as they head into Dunbar for classes, especially near the end of the semester. But there is one student who is ecstatic to have the opportunity to go to school. His name is Raphael Makombo, and he is passionate not only about learning, but also about life.
Raphael's childhood gave him a zeal for life that is incomparable to the average Dunbar student. He spent the first 18 and a half years of his life in Africa.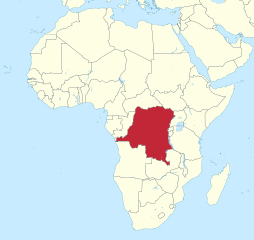 He was born in the Congo, but he fled to Zambia with neighbors because of the political unrest that had overtaken the area.
"Congo had no peace," Raphael said. "People were being killed and the government had no power."
Experiencing life in the Congo wasn't the only difficult part of Raphael's childhood. Most six-year-olds are learning to count, but by age six Raphael was hunting wild animals such as lions, gorillas and hippos. Astounding as that sounds, he explained quite matter-of-factly that gorillas are definitely the most dangerous to hunt.
During his time in Africa, Raphael learned five languages: French, English, Lingala, Swahili and Kinyarwanda.
"There are 470 local languages in the Congo," said Raphael.
Each area used a different dialect and Raphael said that even though language barriers were hard on him, he was forced to learn them in order to communicate.
But language barriers were only the beginning of the obstacles that Raphael was forced to face. Students had to take care of themselves.
"It was hard for me to go to school." said Raphael. "But I had money to buy books, and I was able to learn English at the English Center in Zambia."
One of the most challenging moments of Raphael's childhood was the death of his father when he was only seven. After his father passed away, Raphael moved in with a family from his church in the refugee camp in Zambia until he was 16. 
"
He is amazingly positive, especially given what he's been through"
— Mrs. Summer Perry, PLD Librarian
After living with the Nzilamba family for many years, Raphael became an orphan in a refugee camp in Zambia.
Through the camp, Raphael was able to contact the United Nations High Commission for Refugees (UNHCR), an organization that helps refugees in danger seek safety in another country.
He said he had to go through a long interview process before he was allowed to board the plane that brought him to America. The first time he applied with the UNHCR, he made it to his medical examination, one of the last stages in the process, when he was told he was unable to come to America because he didn't pass the exam.
It took Raphael another year to seek medical help and begin the interview process with UNHCR again. This time he passed all of the steps, including his medical examination and a face-to-face interview. Raphael was finally allowed to come to America on June 22, 2013.
"I didn't know America would be far like this," said Raphael. "I expected the journey to take a day at the most. It took 48 hours."
Raphael said that the biggest difference between Africa and America is the way of life, and he is grateful for the loving attitude of people he has met in America.
"
I appreciate that people are so helpful and know how to understand if someone is suffering."
— Raphael Makombo
Raphael believes this because students at Dunbar have helped him immensely.
Raphael isn't the only one who has been changed by his move to America; he has made a positive impact on the lives of many people in the Dunbar community.
"Despite all he's been through he's always smiling and always has a positive outlook on life," said senior Adeline Agtarap. "He's the kind of friend that would text you just to make sure you're ok – he always wants to help people."
Senior Bader Abdallah agreed with Adeline.
"For a person who has been through so much and was given so little, he is one of the kindest people I have ever met," said Bader.
Students aren't the only ones impressed by Raphael's optimistic disposition. Guidance office secretary Ms. Alice Mattingly is also close to Raphael.
"He is very vivacious. He shines a positive light wherever he goes," said Ms. Mattingly.
She recounted how she had tears in her eyes when Raphael told her, "Before the refugee camp my heart was dead. Now that I'm here it feels alive again."
Librarian Ms. Perry agreed with Ms. Mattingly about Raphael's encouraging outlook on life.
"He is amazingly positive, especially given what he's been through," said Ms. Perry.
ESL teacher Ms. Cathy Yaun also met Raphael during his first day at Dunbar, and since then she said he has taught her many things.
"Raphael has taught me that no matter how busy and full our lives are with work, play, family, and responsibilities, we must take time to smile, reach out, and help those who have been placed in our lives," she said.
Despite his difficult childhood, Raphael has big plans for the future.
"I'm praying that I complete high school and go to college if God wills," said Raphael.
Mr. Jim Adams has Raphael as an independent study student and is helping him learn how to use technology.
Mr. Adams, like many others, has been inspired by Raphael.
"He is a wonderful young man; we can learn a great deal from him because he has experienced so much adversity. His resilience speaks a great deal to the human spirit," he said.