Hybrid Style DanceBlue Mini Marathon
PLD student council will be hosting its first ever hybrid style DanceBlue mini marathon this Friday, March 19th.
Paul Laurence Dunbar High School's student council is hosting its first-ever hybrid-style DanceBlue Mini-Marathon. During a normal year, DanceBlue would be hosted after school in February. The PLD gym would be filled with ecstatic students ready to raise money for pediatric cancer.
The University of Kentucky started hosting DanceBlue in 2006 and has raised over 17.3 million dollars to support this cause. The original DanceBlue is a 24-hour no sit, no sleep marathon. During a normal year, Dunbar's Danceblue is a mini-marathon that ranges anywhere from 4-8 hours. There are inflatables, large crowds of people, and so much more.
"[Friday] is our virtual DanceBlue. Which does support the UK and the Children's Markey Cancer Center that helps the Oncology Clinic that helps fight cancer," PLD Student Council Sponsor Ms. Debra Reaguer said. 
Those registered will gain access to the virtual platform on Friday. This platform will have access to videos, games, educational information, and much more. 
Once 4th block starts, the time is fully dedicated to DanceBlue activities. Students will be playing games with their teachers and tuning into the live stream. This will be a time to have fun and make connections with students, teachers, and classmates since the entire school has had the option to return to school for only a week. 
"DanceBlue is going to be a lot of fun and I expect that everyone will be there! Whether you are participating from home or at school, we have something for you! Be sure to enter the raffle where you can win anything from Airpods to a SunTan City basket," PLD Student Council Co-President Logan Justice said. 
Students that decided to continue with virtual learning will have access to the platform and will be joining the live stream as well. This will be the same stream that the in-person students have; however, it is suggested that students join their class's Zoom for detailed instruction and information about how the day is going to work. 
"We are beyond excited to be able to provide this event to both the students and teachers. We hope that it is a way to not only raise money for the kids but also strengthen connections in the classroom," PLD Student Council Co-President Christinna Lumpp said.
About the Contributors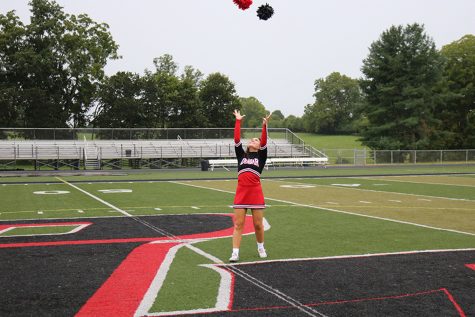 Madelyn Justice, Chief Copy Editor
Hi, my name is Madelyn Justice. I am currently a freshman, making me a first-year staff member.  I have always loved reading the news and watching broadcasts...