Dunbar's Got Talent Returns
Dunbar's second annual Talent Show took place during B4 on March 29.
Last year, the Dunbar talent show was created to increase school spirit and allow students to share their unique talents, like singing, playing music, dancing, magic or comedy. Science teacher Mrs. Keia Scott-Newsome, alongside former social studies teacher Mrs. Maggie Payne and Lamplighter adviser Mrs. Wendy Turner, planned the event.
"Dunbar's Got Talent became a thought that crossed my mind in the wake of so many school shootings that took place last year," Mrs. Newsome said. "I remember discussing with my husband how hard it was to walk into school every day and not feel pure fear that something was going to happen."
She explained that the stress everyone was feeling was taking its toll on her students and everyone else in the Dunbar community. The show was a big hit, so with administrative approval, it was brought back for a second year.
This year, the show cost $2 per student and proceeds will go towards PBIS incentives including PRIDE buck rewards. 
"We plan to create an even better show than last," Mrs. Newsome said.
More students participated this year than last, and performances included singing, dancing, acting, comedy, magic, and playing music. For example, sophomore Reilly Richardson sang "My Boy" by Billie Eilish, while senior Frankie Divine played the guitar. 
It has become an important part of Dunbar's strive towards a culture of positivity. The show brings the students joy as well as giving them a fun experience.
"I really enjoyed the talent show. It was really nice to see some of my friends up on stage doing acts that I know they had practiced hard for. I thought it was really cool seeing all the talent Dunbar has," sophomore Cali Bradley said.
Teachers also enjoy the show and think that it's a favorable experience for the school.
"I think the talent show is the best," said math teacher Mr. Zack Wooten. "Talented people who are willing to share their talents, on stage, in bright lights, with other people watching are the awesome-est."
Sophomore Elizabeth Fitzpatrick danced to "Love on the Brain" by Rihanna.
"I've always loved dancing onstage, it's one of my favorite things to do," Fitzpatrick said.
Out of all of the acts, the crowd narrowed it down to the top three. First place went to Kayla Pryer, Cherrell Porter and Victoria Tolls, for their color guard routine "River" by Bishop Briggs.
Second place went to Litzy Najera and Angela Wang, who sang "Warrior" by Demi Lovato and played the piano. Third place went to Fitzpatrick, who danced and junior Micah Gates, who sang "Love on the Brain" by Rihanna.
About the Contributors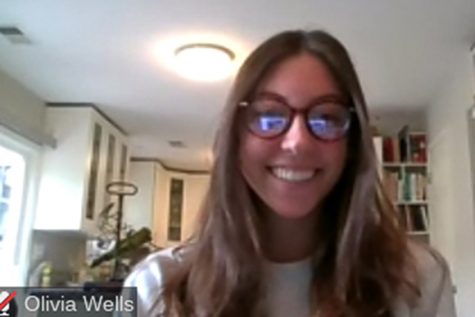 Olivia Wells, Staff Reporter
My name is Olivia Wells and I came to Lamplighter because I thought it would be fun and a really great learning experience. I am a senior and this is my...