Dunbar Cares Food Drive Underway
According to Marketplace, the average cost of a Thanksgiving dinner in 2017 was $49.12, while the average cost for meals per week was around $550, $6.11 per meal. This means that the average Thanksgiving dinner is eight times more expensive than the average cost per meal most people spend.
These statistics could mean that several families might not have the resources to provide the Thanksgiving dinner with traditional foods, such as turkey, stuffing, green beans, mashed potatoes and many more.
Each year at Dunbar, social worker Mr. Steve Duerson holds the food drive Dunbar Cares to deliver canned goods and other Thanksgiving foods to students who may not have enough money to have a Thanksgiving dinner.
In addition to this, Mr. Duerson also takes the time to deliver canned goods to students' families himself. The library also hosts Food for Fines to encourage more people to bring in canned goods.
"Dunbar has held food drives for the last six years," said Mr. Duerson, "We do it to help those in need of food items this holiday season."
Not only will those in need benefit from the act of donating, those who donate will also feel more meaning in their lives as well as motivation for those around them to donate as well. Last year, the food drive served 47 families during Thanksgiving.
"I brought in five packs of mac and cheese and four packs of green beans. There are a lot of people in need so you should donate and help people," said freshmen Alyssa Napire.
The library hosts Food for Fines as well. Those who bring canned goods to the library will have their fines taken off, with one dollar taken off of fines for every can brought in.
"One of the major benefits of donating to charity is that you have the opportunity to share with someone who may not be as fortunate," said library assistant, Mrs. Hazel Compton.
Canned goods which are acceptable include green beans, peas, carrots, cranberry sauce, whole kernel corn, yams, boxed dressing, and boxed macaroni and cheese.
About the Contributors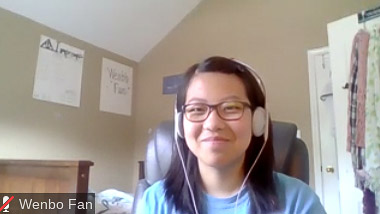 Wenbo Fan, Staff Reporter
My name is Wenbo Fan and this is my fourth year on Lamplighter. Since starting Lamplighter freshman year, I've learned that journalism can change the...