Preparing for the ACT: For Students, By Students
With second semester in full swing, juniors who are preparing to take the ACT can learn from Dunbar seniors.
The ACT is a standardized test used by many American universities to determine a student's admission and, according to PrepScholar, has been shown to be more popular than the SAT in recent years.
Last year, thirteen FCPS students received a perfect score on the ACT. Among them were current Dunbar seniors Kelly Chen, Christopher Duncan, Emma Draper, Zsombor Gal and David Ma. These students had advice to offer juniors preparing to take the exam.
"Essentially, the SAT and ACT are very similar tests, both used for college application," said Ma. "ACT is really looking at college readiness with analytical ability while SAT is looking at your potential for future success."
"
Immediately before the exam, power pose!"
— Senior Emma Draper
With that in mind, there are significant differences in the formatting of the tests.
The ACT consists of math, reading, science and English multiple choice sections, as well as an optional writing section. The SAT does not have a science section, but two math sections, one of which allows a calculator and one of which does not.
"There's no formula sheet on the ACT, but memorizing [mathematical equations] is more helpful either way," said Chen. This will save a student time as he or she will not have to refer back to a previous page regularly.
According to Duncan, "The hardest part is definitely the reading. It's so demanding due to the passage content. The time constraint is the worst and you're kind of just getting over that halfway point and want it to be over with."
The testing time without writing for the ACT is 2 hours and 55 minutes and 3 hours and 35 minutes with writing. 
"I prepared by making sure I could meet the time requirements," said Gal. 
Studying the night before the test can be difficult for many, especially those who stress before a big test day.
"
[The ACT] only really measures a few factors. It really is just a part of a bigger picture."
— Senior Kelly Chen
"Be rested. Don't just get a good night's sleep the night before; give yourself at least two nights of good sleep before the exam," said Draper. "Immediately before the exam, power pose!"
Students can take additional steps in order to be prepared on test day. These include bringing a snack and water bottle to consume during breaks, going to bed early the night before and packing a fully-charged calculator and #2 pencils.
For juniors, this time of year can be exceptionally stressful. However, while these tests do provide colleges with an overview of a student's knowledge and preparedness, "[The ACT] only really measures a few factors," said Chen. "It really is just a part of a bigger picture."
Juniors are required to take the ACT without writing, free of charge, at Dunbar in March. However, additional testing dates are available on Feb. 10 and April 14 for students who would like to improve their score or take the exam with writing.
On these dates, students must pay a fee of $46 for the test without the writing section or $62.50 with the writing section and can register here.
About the Contributors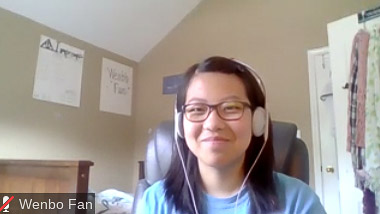 Wenbo Fan, Staff Reporter
My name is Wenbo Fan and this is my fourth year on Lamplighter. Since starting Lamplighter freshman year, I've learned that journalism can change the...