Remembering Christian Gomez
The recent graduate was shot and killed on Jan. 19.
Christian Gomez was a member of the Paul Laurence Dunbar class of 2016. Upon graduation, he had plans to go to work, help his family and give back to the community, but instead Gomez died on Jan. 19. His family and teachers remember him as a hardworking, determined, funny and family-oriented individual.
English teacher Mrs. Brooke Jackson taught Gomez in multiple classes, most recently film studies. She said, "At first, he had this really tough exterior, and I didn't know if I would ever be able to get through to him." Mrs. Jackson said that she became very intent on helping Gomez graduate. She said, "he came to my room and said 'I made it! I'm gonna graduate!"
Despite being Gomez's teacher, Mrs. Jackson said she learned from him as well. "The thing that Christian taught me is to never give up on a kid that at first you feel like might be too hard for you because he showed me that any kid can make that choice. You can make the choice to be a different person; you can make the choice to show your true colors even if you haven't to this point… I saw such a change in him…"
Mrs. Jackson remembered him as being outgoing and caring. She said, "I know that he had a lot of close friends, and he always cared about his sister."
English teacher Ms. Amanda Holt taught Christian in his junior year of high school. She said she recalled a turning point in Gomez's life when he ended up changing his mind because he said he loved his sister so much, and he wanted to be there for [his family].
"He turned it all around," she said.  "I'll never forget the moment when I saw it in his eyes – that he really wanted to turn his life around… He leaves me with this impression of just hope. That smile – that's what I'll always remember." Ms. Holt also wrote a poem in Christian's honor.
Christian's aunt, Olivia Fuentes, remembers him as funny, generous, loving and family-oriented. She recalls him playing with kids and attending birthday parties. Mrs. Fuentes said life was like a game to Gomez. Even though he never took anything too seriously, he liked to help out, and he never said 'no' when he was asked to do something.
Although she said that she could go on for days talking about her nephew, the things she will miss most were his smile and his pranks and jokes.
Fuentes said that Gomez spent much of his time at home with his mother, Claudia Gomez. Mrs. Gomez said that her son was always looking out for her and making sure he was happy. He never left the house without giving her a kiss and never failed to kiss her and ask about her day when he came home.
When describing her son, Mrs. Gomez said "My son was a good person."
Of his plans for the future, she said her son wanted to go straight to work so he could help his family and the community. He wanted to give back as much as he could, particularly to the homeless and others in need.
Gomez is survived by his mother, Claudia Gomez; his sisters, Jennifer Govea and Jessica Aldana; his aunt, Olivia Fuentes; and several other family members.
There is a condolences page on The Lexington Herald-Leader where people can leave messages for Christian's family.
About the Contributors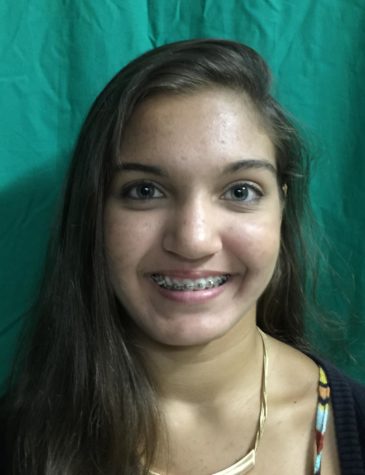 Julia Radhakrishnan, Staff Reporter
My name is Julia Radhakrishnan and I am a sophomore in MSTC. This is my first year on the Lamplighter and I am very excited to be part of such a talented...