Going Viral
Everyone wants fame, right? It seems that with today's technology, an achievable outlet to reach this status is through the social media. Most students are familiar with the term "viral"; when a picture, video, story or comment circulates the internet at a rapid rate and is viewed by the masses. Miraculously, there are several students at Dunbar who have achieved the action of "going viral," but none with the intention to do so. The reason I've been assigned to write this article is because I've gone viral- perhaps you've seen my picture without even realizing that it was me. In my situation, my left hand has more fame than I will ever achieve.
I posted a picture of my left hand covered in black hairspray to my personal twitter, quoting it with "When u accidentally touch your soul" (because I think I'm hilarious). The original tweet only had 15 retweets and 48 favorites (likes nowadays), and I thought nothing of it. The very next day, I woke up to dozens of text messages and social media notifications. This picture of my hand along with my quote was on EVERY large social media account. I was astonished – mainly humored by the fact that my stubby hand was being retweeted and posted by anyone and everyone.
The unsettling part was that my original tweet didn't go viral- how did these accounts even find that tweet of mine? Even Lohanthony had gotten a hold of my hand without the slightest idea of who I was.
After my own experience, I decided to interview a few other Dunbar students who have gone viral during 2014-15.
DeRante Sanders, senior, has also had a personal photo go viral. The photo he posted was found by a popular high school uniform account, and immediately began racking up retweets.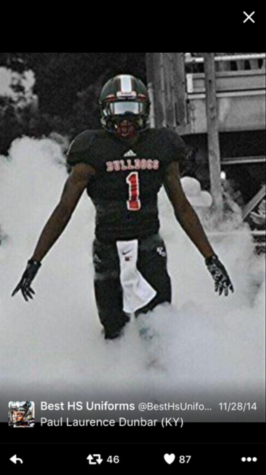 "Literally five days after I posted it, the account posted the picture,"explained Sanders,"I had never heard of the account, and I had a ton of notifications. I was confused because I barely use twitter, but once I saw the pic I thought it was pretty cool." More often than not, it seems that students who go viral have no intention of doing so.
Within the past several months, an app called "Acapella" has swarmed the internet with videos. Each video consisted of the user singing a song, but, in addition to providing the vocals, they were also the bass, the guitar and everything else needed for the song. Accounts were made on social media, especially Twitter, to accommodate the best of the "acapella" videos. It was on these accounts where senior Kaleah Wilson and senior Alaina Everhart found their fame.
I love people who go hard on this app ?? pic.twitter.com/otOKGMXupr

— Sensual Music (@sensuaImusic) November 9, 2015
WERK pic.twitter.com/r449FOcmXV

— Sensual Music (@sensuaImusic) November 9, 2015
Fetty acapella ? pic.twitter.com/qQizoFQ3qf

— Acapella Tweets (@AcapelIas) November 4, 2015
When asked about their expectations regarding "going viral," the girls agreed that their fame was not intentional – the videos were made to be funny, not to gain status.
"I was pretty nervous because I knew people would be talking about it," said Wilson. Everhart joined in, "I thought people were gonna be like 'wow she doesn't have a life,' but it's actually pretty cool." The girls continue to live how they always have, but with a little extra attention from those who have recognized them in the videos.
"
I felt pretty nervous, I knew people would be talking about it.
— Kaleah Wilson
Going viral can be fun and exciting, but, based on the accounts of those who have experienced virtual stardom, it isn't life changing. Next time tweet something funny or creative, keep in mind that you could be next in line to go viral.