Could You Break Out?
Looking for something different to do with your friends? For less than it costs for a movie ticket and snacks, you can challenge yourself to a real life adventure.
In 2015, Lexington became the home to a new business called Breakout Games, located at 306 N. Ashland Ave. The brainchild of Japanese engineer Toshimitsu Takagi, the interactive experience is a real life adventure with one goal: you must break your way out of a room in less than 60 minutes by solving puzzles, cracking codes, and finding hidden items. There are different rooms and scenarios you can book for a small group. The number of players ranges from 2-8, depending on the scenario you choose.
Each scenario requires you to have different skills and strategies.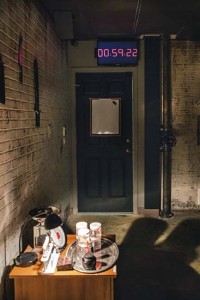 The Kidnapping
In this scenario, you and your friends wake up handcuffed in a strange room (yes, handcuffed). You realize that you are not the first victim to have been in the room, and you begin to find clues hidden by a previous captive. A digital clock counts down the time until your kidnapper returns, so you'll need to work with your friends to find a way out!
The Derby Heist
In this scenario, a famous veterinarian has been caught drugging racehorses, and in a desperate effort for revenge he goes to Churchill Downs and steals the trophy, the $2 Million Purse and the famous Blanket of Roses. With the Derby about to begin, you and your friends must break into his house, recover all three items, and escape in time to return the items and save the Kentucky Derby!
Casino Royale
In this scenario, you are an agent of MI6 and one of your colleagues has gone missing while investigating organized crime at the Casino Royale. You and your friends have been sent to find the missing agent and to track down the syndicate responsible for his abduction. You find yourselves trapped in the famous casino, and have only an hour to escape with your lives.
Island Escape
In this scenario, you are vacationing on a tropical island when  a dormant volcano starts to slowly come to life. As the rumbling noise grows louder you realize that the whole island has already evacuated, and your friends and family are the only ones left! Your last hope is to search the island for the keys to a nearby boat and to to escape before lava reaches the shore.
If this sounds like something you want to try, the cost for this experience is $20 per person. If you are under 18 you will need to fill out this waiver and bring it to your game.