A Purr-fect Movie
DreamWorks once again shows itself as the staple animation studio.
After a decent comeback with The Bad Guys, DreamWorks seems to be striving for quality in their films. Along with the noticeable advancements in their stories, they are also tinkering with new and inspiring animation. Long gone are the days of Pixar realism in animated movies because DreamWorks is now leading the charge with a striking visual style that will leave you in awe. Puss in Boots: The Last Wish is this movie. Luckily I was able to see it for myself, and boy does this movie deliver.
The main story sees Puss in Boots on a grand-scale adventure. His previous adventures and his passion for heroics have taken a toll, and the Legendary Puss in Boots has now lost eight of his nine lives. After hearing of a mythical wishing star that can grant one wish to anyone who seeks it, he travels his way in search of the legend to restore all of his nine lives.
The plot of The Last Wish is pretty simple. The story is another travel movie but don't let that simple premise fool you. Over the course of Puss in Boot's travels, he meets other characters that want that wish for themselves. 
One group that is in pursuit of the legend is Goldilocks and the Three Bears. The three aspiring bounty hunters are helping Goldilocks find a new real family (being homeless and abandoned when the bears found her). 
Another pursuer of the legend is Jack Horner, originating from the nursery rhyme Little Jack Horner. He is the owner of the largest pie distribution and manufacturing company in the land and he wants to clear his name from his embarrassing nursery rhyme days. He wants to see the world burn and earn some respect.
The final rival of Puss in Boots is not interested in a wish. This character is the embodiment of death itself. After seeing how careless Puss has been with all his eight lives he feels that he doesn't deserve that kind of immortality. He plans to take care of the legendary Puss in Boots and finish him off for good.
They all are extremely interesting and more importantly, very entertaining to watch. One of the joys of this film is just watching the characters fight over one wish that can change one of their lives. 
In my opinion, the animation is the true selling point of this movie. After the world was exposed to Spiderman Into the Spiderverse, animation companies have been eager to make and experiment with styles of their own. 
Dreamworks put copious amounts of energy into the style of this movie and it shows. The entire movie is like a fairy tale coming to life. Characters pop, being brightly colored and stylized.
The action scenes are a joy to watch. The frames of the movie drop to emphasize the action and impact of each hit. When you see the frames start to drop, you know something cool is about to happen. Animation is such an amazing medium to watch, and this movie embodies the true art animation can offer.
Another stellar part of the film was the voice cast. Antonio Banderas plays the lead role of the infamous Puss in Boots and brings so much life to the character. You really feel like this cat is an actual person with a likable and charming personality. Other shoutout voices are Salma Hayek as Kitty Softpaws, Harvey Guillén as Perrito, and Wagner Moura as the Wolf AKA Death who all bring such lively personalities to their characters.
This is one of the most interesting, impactful, stylized, funny, and heartwarming movies out there. This movie is a must-see, so set aside some time to experience the best-animated movie of the year!
About the Contributors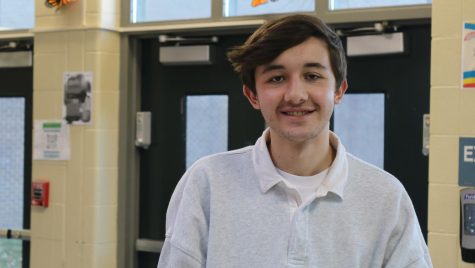 Peyton Gasser, Editor-in-Chief
I've always been fascinated with video. All the different aspects in unison can create a beautiful piece of art. That's why I am glued to any film or video...