The Hype on Elden Ring
On Feb. 25 a game collaboration between the writer of Game of Thrones, George R.R. Martin, and the director of Dark Souls, Hidetaka Miyazaki, releases worldwide.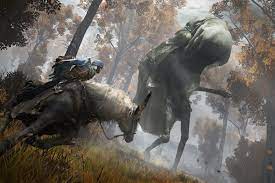 It's easy to see the hype surrounding Elden Ring an open-world game that fans have been eagerly waiting for.
Many of the previous titles produced by Miyazaki such as Dark Souls 1, 2, 3, Bloodborne, and Demon's Souls were quite linear with branching pathways. These were a very vague and environmental way of storytelling.
With Elden Ring, the plot is slightly more straightforward with an incredibly expansive open world to explore. One moment, you'll be on your horse riding on an open field, the next, massive dragonflies in out of nowhere, forcing you into a boss battle.
"I personally am super excited about the versatility in creating your own character as well as the story," junior Sophia Bonziglia said.
Elden Rings' story has remained a bit of a mystery, but what we do know is that you, the tarnished, are on a quest to acquire the Elden Ring from the Erd Tree to restore a dying world.
You may find giants roaming the land, friendly little pot people that talk to you, and of course, giant castles to explore.
You'll also be able to customize your character the way you want from the way they look to their class. Players can be a knight proficient in close combat; a thief efficient with bows, daggers, and stealing; a sorcerer skilled in spells in both long and short ranges, or a user of the arcane, a new type of magic that remains a mystery up to the game's release.
"I've played some video games, but I'm not a big video gamer, but the game is called the Elden Ring. And these games are like movies…they take a long time to develop," George R. R. Martin said. "The game's been slowly developing."
Martin said that his role was to come up with a suitable world and story, as well as some characters, and have Hidetaka and From Software builds from there. Creating monsters and characters to show to Martin. He's also been used for promotional material.
Students have tried not to see any "spoilers" to ruin it.
"I'm keeping myself in suspense," junior Anton Sisgaard said. "I'm going to wait until it releases to find anything out."
Although the plan was to initially release the game in January, fans are okay with the late release.
"I'm incredibly excited to play this game with my friends, though it's kind of a shame that it got delayed a month, if it means improving the game's quality, I'm more than willing to wait,"  junior Cadence Newbold said.